Brasília Brazil Temple
Planning and approval phase; site location officially announced; exterior rendering released; groundbreaking not announced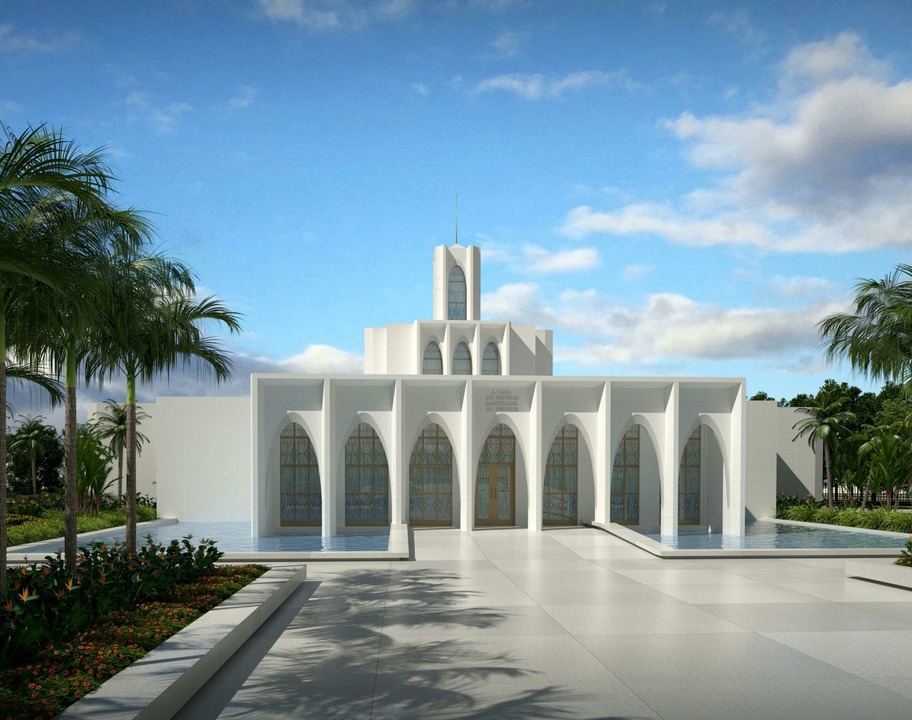 © Intellectual Reserve, Inc. All rights reserved.
Location
GA/Norte Quadra 612 – Lote "C"
Brasília, Distrito Federal
Brazil
Announcement:
2 April 2017
Site:
6 acres
Architectural Features:
Single attached central spire
Ordinance Rooms:
Two ordinance rooms (stationary) and two sealing
Total Floor Area:
25,000 square feet
Construction Status
The Brasília Brazil Temple is currently in the government approval stages. No groundbreaking date has been announced.
On June 21, 2017, engineers from Church headquarters inspected the Brasília temple site in preparation for developing the engineering plans for the temple complex.
Temple Rendering
On February 26, 2020, an official exterior rendering of the Brasília Brazil Temple was released to the public, featuring a single-level, 25,000-square-foot temple with numerous arches complementary to Brasília's famous architectural style. In addition to the temple, a patron housing facility and new meetinghouse will be constructed.
Temple Site
The site for the Brasília Brazil Temple is located in the northern section of the city near an arm of Paranoá Lake.
Temple Announcement
On April 2, 2017, President Thomas S. Monson announced the Brasília Brazil Temple, Brazil's tenth temple, during the Sunday Morning Session of the 187th Annual General Conference. There are six operating temples in Brazil including the Campinas Brazil Temple, Curitiba Brazil Temple, Manaus Brazil Temple, Porto Alegre Brazil Temple, Recife Brazil Temple, and São Paulo Brazil Temple. Three other temples are announced or under construction including the Fortaleza Brazil Temple, Rio de Janeiro Brazil Temple, and Belém Brazil Temple.1
Brasília is Brazil's beautiful national capital, renowned for its unique architecture. More than 1.3 million members of the Church live in Brazil, more than any nation in the world other than the United States and Mexico. The Brasília Brazil Temple will bring the blessings of the temple closer to the thousands of members living in Brazil's vast interior. There are five stakes in the immediate Brasília area with five additional nearby stakes and more in the surrounding region.
Temple Facts
The Brasília Brazil Temple will be the tenth temple built in Brazil.
---
"President Monson Announces Five New Temples," The Church of Jesus Christ of Latter-day Saints News Release, 2 Apr. 2017.