Fortaleza Brazil Temple
164th dedicated temple in operation
Limited Operations
PHASE 3: TEMPLE OPEN FOR ALL ORDINANCES WITH RESTRICTIONS
Effective 30 August 2021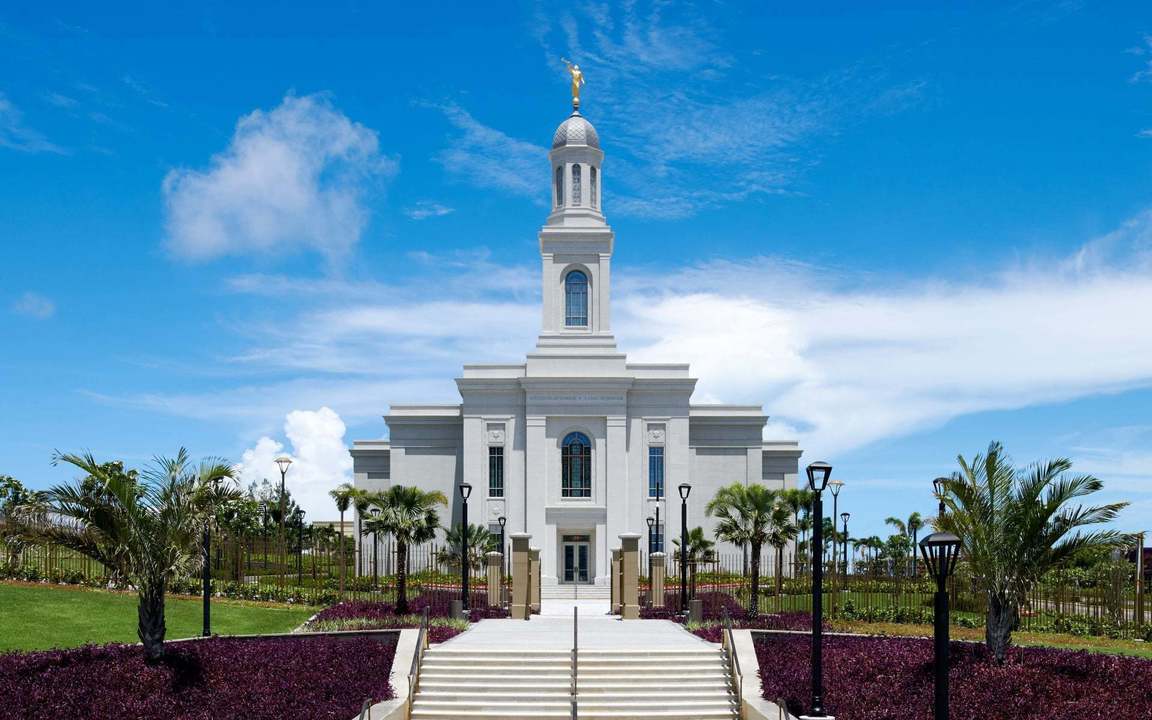 © Intellectual Reserve, Inc. All rights reserved.
Services
NO clothing rental available
NO cafeteria food served
NO patron housing available
Distribution center nearby
(Store Locator)
Announcement:
3 October 2009
Groundbreaking and Site Dedication:
15 November 2011 by David A. Bednar
Public Open House:
27 April–18 May 2019
Dedication:
2 June 2019 by Ulisses Soares
Site:
10 acres
Exterior Finish:
Branco Ceara granite
Architectural Features:
Single attached end tower with an angel Moroni statue
Ordinance Rooms:
Two instruction rooms, two sealing rooms, and one baptistry
Total Floor Area:
36,000 square feet
Construction Approval
An agreement with the local government was established in the early months of 2015, and a building permit was issued shortly thereafter. The groundbreaking ceremony for the temple was held in November 2011 where the original double-tower design was unveiled, but it was later redesigned.
On May 16, 2014, the Mayor of Fortaleza, Roberto Claudio, met with Elder Jairo Mazzagardi, First Counselor in the Brazil Area Presidency; Elder Mozart Soares of the Seventy; and Alri Nogueira, a member of the Church and former Fortaleza councilman. The main topic of conversation was the temple. The mayor expressed his admiration for the Church and his pleasure with having a temple constructed in Fortaleza. He asked to be invited to tour the facility during construction and especially during the open house following its completion. At the conclusion of the visit, the mayor was presented with a Tabernacle Choir at Temple Square music CD and a family statue.1
Groundbreaking Ceremony
The groundbreaking ceremony for the Fortaleza Brazil Temple was held on November 15, 2011. Elder David A. Bednar of the Quorum of the Twelve presided over the ceremony. "This temple will be a source of hope, light and faith in God for all who come and walk here and in this field," Elder Bednar said. "This city will always be better and different because of the temple to be built here."2 Stake presidencies, bishops, and their family members from 15 stakes in the Fortaleza region were invited to attend the groundbreaking ceremony at the temple site. During the days prior and following the groundbreaking, Elder Bednar presided and spoke at a variety of Church meetings including the Fortaleza Brazil Benfica Stake Conference, a missionary conference, and firesides for Young Single Adults and married couples.
Temple Design
The Fortaleza Brazil Temple is a highly detailed edifice with a single-domed tower surrounded by lush landscaping and built into a gently rising slope, offering beautiful views of the city. Plans for the site also call for an arrival center, missionary housing facility, a meetinghouse, and maintenance building.
Temple Site
The Fortaleza Brazil Temple will stand in the beautiful coastal neighborhood of Dunas on a site located across from the esteemed FANOR, an institute of higher education.
Temple Announcement
President Thomas S. Monson announced the construction of Brazil's seventh temple in Fortaleza, located in northeast Brazil, during the Saturday morning session of the 179th Semiannual General Conference on October 3, 2009. There are 13 stakes in the immediate vicinity of Fortaleza and several more in outlying areas. Members currently travel nearly 500 miles to attend the Recife Brazil Temple, which serves over 80 stakes and districts in northern Brazil. President Monson said, "We desire that as many members as possible have the opportunity to attend the temple without having to travel inordinate distances."3
Temple Facts
The Fortaleza Brazil Temple will be the seventh temple built in Brazil.
The Fortaleza Brazil Temple was the first temple dedicated outside of the United States by an apostle native to that country.
---
The Church of Jesus Christ of Latter-day Saints News Release, "Prefeito e líderes da Igreja de Jesus Cristo conversam sobre o futuro Templo em Fortaleza," 28 May 2014, 25 Jun. 2014 <https://www.saladeimprensamormon.org.br/artigo/prefeito-e-l%C3%ADderes-da-igreja-de-jesus-cristo-conversam-sobre-o-futuro-templo-em-fortaleza>.
The Church of Jesus Christ of Latter-day Saints News Release, "Ground Broken for Fortaleza Brazil Temple," 15 Nov. 2011.
The Church of Jesus Christ of Latter-day Saints News Release, "Five New Temples Announced," 3 Oct. 2009.