Rio de Janeiro Brazil Temple
Preparing for the public open house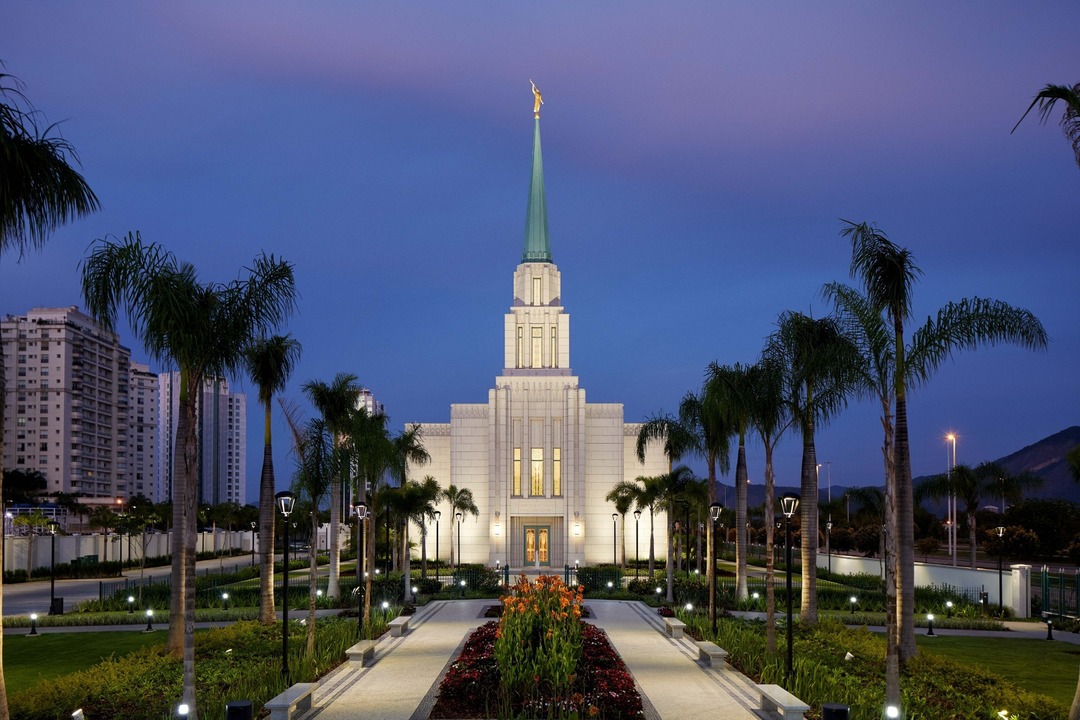 © Intellectual Reserve, Inc. All rights reserved.
Location
Avenida das Américas, 8547
Barra da Tijuca
22621-120–Rio de Janeiro–Rio de Janeiro
Brazil
Announcement:
6 April 2013
Groundbreaking and Site Dedication:
4 March 2017 by Claudio R. M. Costa
Public Open House:
17 April–2 May 2020
Dedication:
17 May 2020
Construction Status
As of October 2018, stone cladding of the exterior walls of the Rio de Janeiro Brazil Temple has begun.
Groundbreaking Ceremony
The formal commencement of construction for the Rio de Janeiro Brazil Temple was celebrated at a groundbreaking ceremony held Saturday, March 4, 2017, at 10:00 a.m. Elder Claudio R. M. Costa, president of the Brazil Area, presided at the services. The event was streamed live via Facebook.
Construction Approval
Plans for the Rio de Janeiro Brazil Temple were submitted in late 2015, and various approvals have been obtained. In November 2016, an environmental license was issued, which was required before construction could begin. Service projects were held at the temple site to clear the land and prepare it for groundbreaking.
Temple Site
The Rio de Janeiro Brazil Temple and an adjoining meetinghouse will be constructed on property next to a nature reserve on Avenida das Américas in the Barra da Tijuca neighborhood. Barra is a beautiful development on the Atlantic Ocean that hosted most of the venues for the 2016 Summer Olympics.
Temple Announcement
On April 6, 2013, President Thomas S. Monson announced the construction of the Rio de Janeiro Brazil Temple during his opening remarks at the 183rd Annual General Conference. Brazil has a population of nearly 200 million people including over 1,173,000 members of the Church. Brazil operates six temples with an additional temple announced for Fortaleza, bringing the total to eight with the announcement for Rio de Janeiro. The São Paulo Brazil Temple, the first constructed in Brazil, was completed in 1978.1
Rio de Janeiro—the location of the 2016 Summer Olympics—is the second largest city in Brazil and home to the famous Christ the Redeemer statue. Church members in Rio currently travel approximately 300 miles (500 kilometers) to participate in temple ordinances at the Campinas Brazil Temple. The temple in Campinas serves members from nearly 100 stakes and districts spread across the states of São Paulo, Rio de Janeiro, Minas Gerais, Distrito Federal, Espírito Santo, Goiás, Mato Grosso, Mato Grosso do Sul, and Tocantins.
A Facebook video captures the reaction of members in the Rio de Janeiro Andaraí Stake Center to the temple announcement.
Temple Facts
The Rio de Janeiro Brazil Temple will be the eighth temple built in Brazil.
The groundbreaking ceremony for the Rio de Janeiro Brazil Temple was held on the same day as the groundbreaking ceremony for the Arequipa Peru Temple.
---
The Church of Jesus Christ of Latter-day Saints News Release, "New Temples Announced for Cedar City, Utah and Rio de Janeiro, Brazil," 6 Apr. 2013.