Tucson Arizona Temple
157th operating temple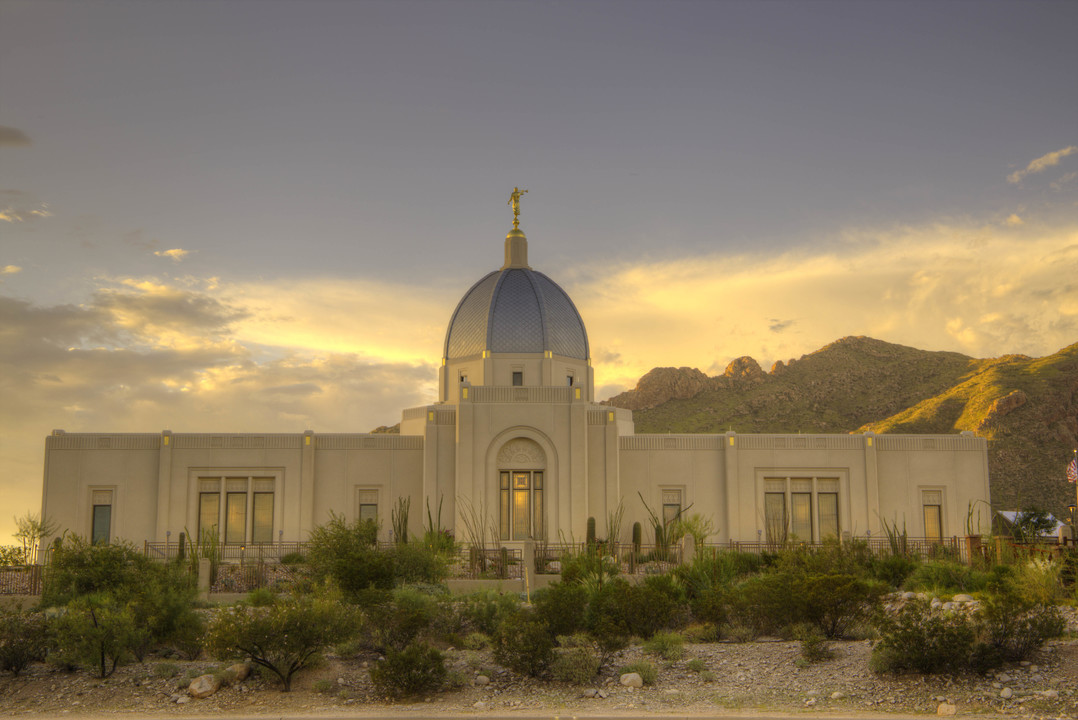 © Bryon Barney. All rights reserved.
Services
NO clothing rental available
NO cafeteria available
NO patron housing available
Distribution center nearby
(Store Locator)
Announcement:
6 October 2012
Groundbreaking and Site Dedication:
17 October 2015 by Dieter F. Uchtdorf
Public Open House:
3–24 June 2017
Dedication:
13 August 2017 by Dieter F. Uchtdorf
Site:
7 acres
Exterior Finish:
Precast integral colored concrete panels
Ordinance Rooms:
Two ordinance rooms (stationary) and two sealing
Total Floor Area:
38,216 square feet
Angel Moroni Raising
The angel Moroni was placed atop the dome of the Tucson Arizona Temple on July 7, 2016.
Groundbreaking Ceremony
On Saturday, October 17, President Dieter F. Uchtdorf, second counselor in the First Presidency, presided at the groundbreaking ceremony for the Tucson Arizona Temple. Services were broadcast live to area meetinghouses in English and in Spanish.
Construction Approval
In February 2013, a Church project manager submitted preliminary plans to Pima County to propose making Church-owned property in the Catalina Foothills, where East Ina Road curves into Skyline Drive, the site for the Tucson Arizona Temple. The 7-acre site was purchased by the Church in 2010, and a residence to the north was subsequently acquired.
The documents included surveys and environmental studies plus site and floor plans that used a rendering of a two-story, 34,000-square-foot mission-style building to represent the Tucson Arizona Temple. Plans proposed a 260-space parking lot with large areas of natural desert open space to provide a buffer for the surrounding neighborhood. No rezoning was required for the site, as it is already zoned to allow religious buildings.
The Shadow Roc Homeowners Association—the neighborhood where the proposed site is located—previously opposed an office development at that location. But association president, Stan Kartchner, himself a member of the Church, responded favorably to the temple plans. He indicated that a temple is "one of the more favorable uses we could imagine" for the property. He expressed his desire for Church representatives to open a dialogue with neighbors as the plans progress.1
Temple Design
The Tucson Arizona Temple was originally designed with a 95-foot steeple, which would have required a special permit. However, plans were altered, and the steeple was replaced with a dome-shaped cupola—reminiscent of the famous dome that crowns Italy's Florence Cathedral—which does comply with Pima County planning and zoning regulations.
Temple Site
The site for the Tucson Arizona Temple is located in the Catalina Foothills where East Ina Road curves into Skyline Drive.
Temple Announcement
On October 6, 2012, President Thomas S. Monson announced plans for a temple to be built in Tucson, Arizona—Arizona's second largest city—during his opening remarks of the 182nd Semiannual General Conference. There are approximately 400,000 members of the Church in Arizona.2
Temple Facts
The Tucson Arizona Temple will be the sixth temple built in Arizona, following the Mesa Arizona Temple (1927), the Snowflake Arizona Temple (2002), The Gila Valley Arizona Temple (2010), the Gilbert Arizona Temple (2014), and the Phoenix Arizona Temple (2014).
Cactus plants at the Tucson Arizona Temple site were transplanted to an on-site nursery and reintegrated into the final landscaping.
---
Becky Pallack, "Foothills site likely for Mormon temple," Arizona Daily Star 4 May 2013, 4 May 2013 .
The Church of Jesus Christ of Latter-day Saints News Release, "Church Announces New Temples in Arizona and Peru," 6 Oct. 2012.