Yigo Guam Temple
Demolition of Yigo meetinghouse underway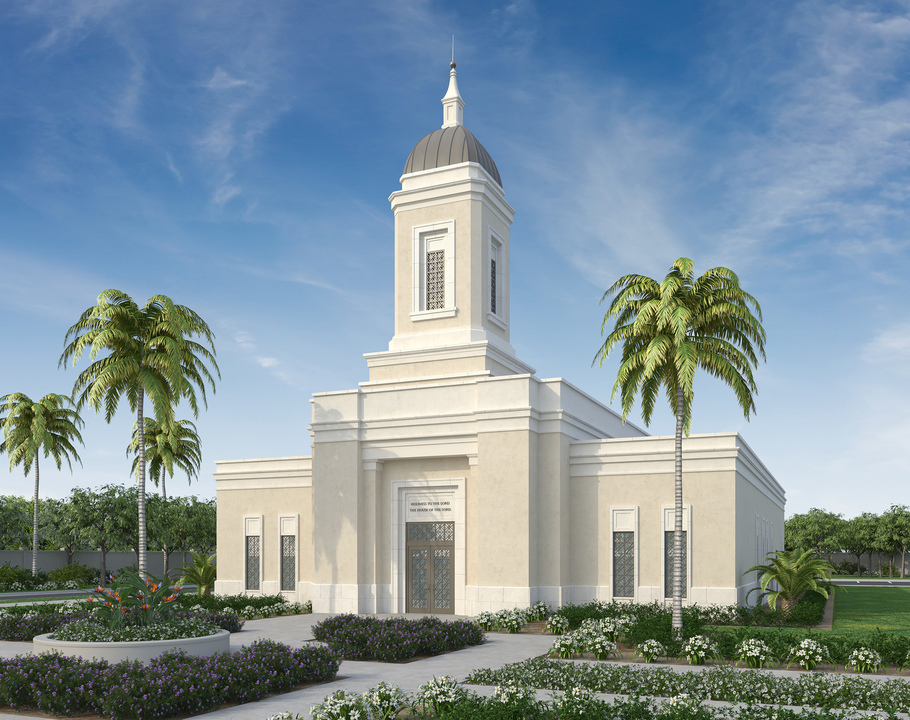 © Intellectual Reserve, Inc. All rights reserved.
Location
Marine Corps Drive and Milalak Drive
Yigo
Guam
Announcement:
7 October 2018
Groundbreaking and Site Dedication:
4 May 2019 by Yoon Hwan Choi
Ordinance Rooms:
One ordinance room (stationary) and one sealing
Total Floor Area:
6,860 square feet
Groundbreaking Ceremony
Elder Yoon Hwan Choi, president of the Asia North Area, will preside over the groundbreaking ceremony for the Yigo Guam Temple on Saturday, May 4, 2019. Attendance at the site will be by invitation only, but the ceremony is expected to be broadcast to chapels within the proposed temple district. Construction of the temple is anticipated to take two years.1
Construction Status
On February 24, 2019, the Yigo chapel was permanently closed for demolition. The site will be prepared for construction of the Yigo Guam Temple and a new meetinghouse located behind the temple.
Temple Rendering
On February 1, 2019, the official artist rendering of the temple was released to the public.
Temple Site
The Yigo Guam Temple will be constructed on the site of the existing Yigo chapel located at the corner of Marine Corps Drive and Milalak Drive in the village of Yigo.
Temple Announcement
Bringing the blessings of the temple to the remote islands of Micronesia, President Russell M. Nelson announced the Yigo Guam Temple on October 7, 2018, during the last session of General Conference. The tiny island of Guam, a territory of the United States, sits in the western Pacific and boasts a population of 166,000 people. Missionaries from the Church first arrived in Guam in 1957, and membership has since grown to more than 2,500 Latter-day Saints.2
Temple Facts
The Yigo Guam Temple will be the first temple built in Micronesia.
---
"Temple Groundbreakings Announced for Pocatello and Guam," The Church of Jesus Christ of Latter-day Saints News Release, 1 Feb. 2019.
"Twelve Temples Announced as October 2018 General Conference Closes," The Church of Jesus Christ of Latter-day Saints News Release, 7 Oct. 2018.