Yigo Guam Temple
Latest News
News Stories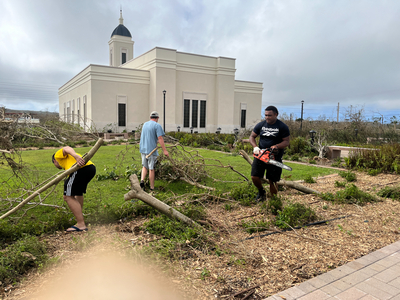 Photo: Intellectual Reserve, Inc.
Yigo Guam Temple Flooded by Typhoon Mawar
On Wednesday, May 24, Typhoon Mawar wrought havoc on the island of Guam with destructive winds of 140 mph that took out power and water to most of the residents. The one-year-old Yigo Guam Temple shone like a beacon in the storm with its generator-powered lighting, but the sacred structure had flooded, saturating the carpets and some of the furniture. No structural damage was sustained, but the temple will be closed for repairs through July 24. The typhoon also damaged the temple grounds, uprooting most of the trees. Volunteers have been cleaning up for more than a week.