Okinawa Japan Temple
Walls and floors poured; estimated to be completed in late 2022 to early 2023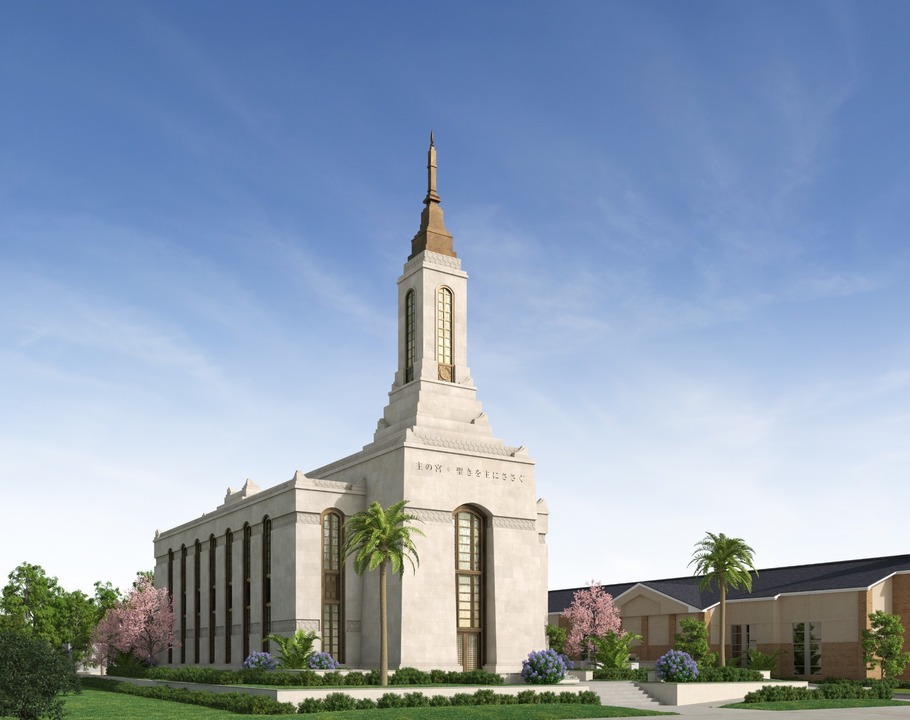 © Intellectual Reserve, Inc. All rights reserved.
Location
7-11, Matsumoto
Okinawa Shi, Okinawa-ken
Japan
Announcement:
7 April 2019
Groundbreaking and Site Dedication:
5 December 2020 by Takashi Wada
Site:
0.5 acres
Architectural Features:
Single attached end spire
Total Floor Area:
10,000 square feet
Groundbreaking Ceremony
"Despite the small gathering, we are extremely grateful as we meet to consecrate this island for the building of a holy temple this day," said Elder Takashi Wada, Asia North Area president, who presided at the groundbreaking ceremony for the Okinawa Japan Temple on Saturday, December 5, 2020. The two-story, 10,000-square-foot temple will be constructed on half-acre parking lot next to an existing meetinghouse that will be remodeled to include a patron waiting area. In his dedicatory prayer, Elder Wada prayed, "Please watch over the people on this island; may all be inspired by thy spirit and recognize the eternal significance of this sacred project."1
Temple Design
The Okinawa Japan Temple will be a two-story building of approximately 10,000 square feet. Plans also call for a temple patron arrival center to be added to an adjacent existing meetinghouse.
Temple Rendering
On May 25, 2020, an official exterior rendering of the Okinawa Japan Temple was released.
Temple Site
On May 25, 2020, the location of the Okinawa Japan Temple was announced. The temple will be constructed in Okinawa City near the Kadena Air Base, adjacent to the meetinghouse for the Okinawa Ward. Its location just off the Okinawa Expressway will make the temple easily accessible from locations throughout the island.2
Temple Announcement
On April 7, 2019, President Russell M. Nelson announced plans to construct Japan's fourth temple, the Okinawa Japan Temple, at the 189th Annual General Conference. Okinawa Island is the largest of the Ryukyu Islands—an island group that stretches from Kyushu, the island where the Fukuoka Japan Temple is located, to Taiwan, the island where the Taipei Taiwan Temple is located. The Church has had a presence in Japan since 1901 and is now home to nearly 130,000 Latter-day Saints. One stake and one military district operate in Okinawa, which is famous for having some of the longest living people in the world.3
Temple Facts
The Okinawa Japan Temple will be the fourth temple built in Japan, following the Tokyo Japan Temple (1980), the Fukuoka Japan Temple (2000), and the Sapporo Japan Temple (2016).
---
"Okinawa Japan Temple to 'Bless the Entire Community'," The Church of Jesus Christ of Latter-day Saints News Release, 5 Dec. 2020.
"See What the New Temples in Guatemala and Japan Will Look Like," The Church of Jesus Christ of Latter-day Saints News Release, 5 May 2020.
"Prophet Announces Eight New Temples at April 2019 General Conference," The Church of Jesus Christ of Latter-day Saints News Release, 7 Apr. 2019.