Okinawa Japan Temple
Latest News
News Stories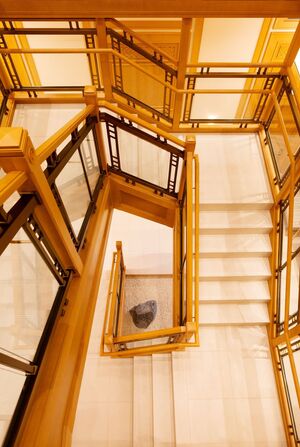 Photo: Intellectual Reserve, Inc.
Open House Begins for the Okinawa Japan Temple
A public open house for the Okinawa Japan Temple will be held daily from Saturday, September 23, through October 7, except Sundays. Elder Erich W. Kopischke of the Seventy addressed invited guests and journalists at a media event held today. The design derives from traditional Okinawan architecture. The arches over the windows are inspired by portals in traditional stone walls, like those at the Shurijo Castle, Nakagusuku Castle and Sogenji Temple. The decorative floral band that connects the arches alludes to the traditional karamon gate. The exterior stone is Sunset Gold Chinese granite from Wenshang, Shandong Province. The art glass design is inspired by Okinawan bingata stencils and patterns. Many native plants adorn the temple, such as fountain palms, sago palms and Chinese hibiscus.