Moses Lake Washington Temple
Latest News
News Stories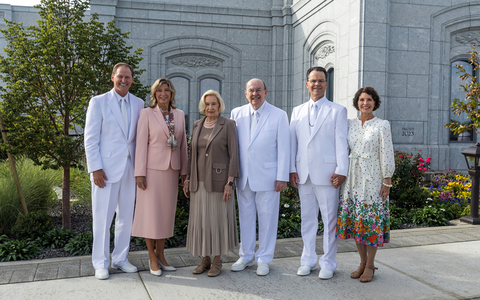 Photo: Intellectual Reserve, Inc.
Elder Cook Dedicates the Moses Lake Washington Temple
Elder Quentin L. Cook of the Quorum of the Twelve Apostles dedicated the Moses Lake Washington Temple today. He quoted from an October 2018 address by President Russell M. Nelson, saying "I promise you that the Lord will bring the miracles He knows you need as you make sacrifices to serve and worship in His temples." Elder Cook was accompanied by his wife, Sister Mary Cook; Elder Mark A. Bragg, General Authority Seventy and president of the Church's North America West Area, and his wife, Sister Yvonne Bragg; and Elder Shayne M. Bowen, also a General Authority Seventy and assistant executive director of the Temple Department, and his wife, Sister Lynette Bowen.