Alabang Philippines Temple
Latest News
News Stories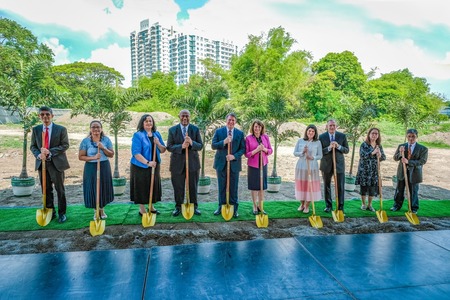 Photo: Intellectual Reserve, Inc.
Groundbreaking Highlights Video Released for the Alabang Philippines Temple
"This is a beautiful place that the Lord has chosen. Through revelation and guidance, it has been found and is now being dedicated to the building of a temple," said Elder Evan Schmutz, Philippines Area President, at the groundbreaking ceremony for the Alabang Philippines Temple held on Thursday, June 4, 2020. The small but sacred service was scaled down to a handful of members to comply with General Community Quarantine (GCQ) rules in place in Metro Manila. In his site dedicatory prayer, Elder Schmutz stated, "[W]e dedicate this chosen ground for the construction of the Alabang Philippines Temple as a house of holiness, a house to be built in Thy Son's name wherein the important work of salvation may be done." Special moments from the ceremony have been released in a
groundbreaking highlights video
.