Tijuana Mexico Temple
149th dedicated temple in operation
Limited Operations
PHASE 2: TEMPLE OPEN FOR LIVING ORDINANCES ONLY
Effective 22 February 2021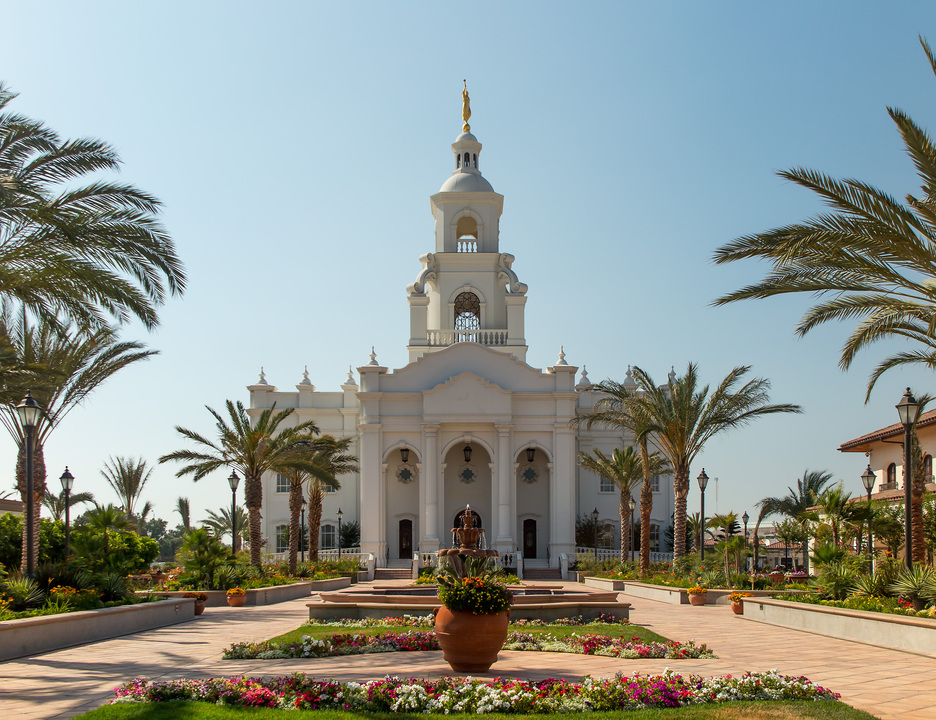 © Aaron Nuffer. All rights reserved.
Address
Paseo Del Rio 6832
Esquina Campestre Oriente
Col 3 RA Etapa Rio Tijuana
22226 Tijuana, Baja California
Mexico
Telephone:
(+52) 664-969-2690
Services
NO clothing rental available
NO cafeteria food served
NO patron housing available
Distribution center nearby
(Store Locator)
Announcement:
2 October 2010
Groundbreaking and Site Dedication:
18 August 2012 by Benjamín De Hoyos
Public Open House:
13–28 November 2015
Dedication:
13 December 2015 by Dieter F. Uchtdorf
Site:
9.4 acres
Exterior Finish:
Precast concrete cladding
Architectural Features:
Single attached central tower with an angel Moroni statue
Ordinance Rooms:
Two instruction rooms (two-stage progressive), two sealing rooms, and one baptistry
Total Floor Area:
33,367 square feet
Groundbreaking Ceremony
On the morning of Saturday, August 18, some 2,000 faithful Latter-day Saints gathered to a barren lot in eastern Tijuana to participate in the site dedication and groundbreaking ceremony for the Tijuana Mexico Temple. The design of the landmark building—which bears a notable resemblance to old Spanish missions—was chosen for a reason, according to Elder Benjamín De Hoyos of the Seventy, First Counselor in the Mexico Area presidency, who presided at the event. "Those early Spanish friars were very valiant in their preaching and building," he said. "And today, we in Mexico are very comfortable with the style of those churches. The temple will be an emblem for the entire Tijuana community."
Long-time member Dominga G. Sifuentes, who was baptized in 1964, said, "I remember when the first chapel was built here. We had 30 members then. Now we have a temple. I've watched the Church grow and have seen many chapels constructed, but the temple brings a special air of peace and tranquility." Elder De Hoyos stated, "We've seen in other Mexican cities where a temple has been built that there is a newfound peace in the city itself. Not only in Mexico, but in other Latin American countries I've visited, a temple can be a real factor in bringing a sense of security and prosperity. And we feel certain much the same thing will happen here."1
Temple Design
The design of the Tijuana Mexico Temple reflects the Spanish Colonial influences that characterize much of Mexican architecture including the Spanish missions found throughout Mexico and the southwestern United States—specifically the San Xavier del Bac Mission in Tucson, Arizona. The brilliant white exterior symbolizes the holy purpose of the temple, which is crowned with a distinctive central tower, lifting the eyes heavenward. Towering palm trees and colorful landscaping will decorate the temple grounds.
Temple Site
The Tijuana Mexico Temple stands on Paseo del Río in southeastern Tijuana with a backdrop of the beautiful Cerro Colorado, which bears white letters near the peak that state: Jesucristo es el Señor (Jesus Christ is Lord).
Temple Announcement
On October 2, 2010, during the opening session of the 180th Semiannual General Conference, President Thomas S. Monson announced that Mexico's thirteenth temple would be constructed in the border town of Tijuana where the Church has experienced rapid growth in recent years.2 The Saints of Tijuana currently must cross the U.S.-Mexico border to partake in ordinance work at the San Diego California Temple. Six stakes are headquartered in the city of Tijuana with nearby stakes located in the states of Baja California and Sonora.
Temple Facts
The Tijuana Mexico Temple will be the thirteenth temple built in Mexico.
The Tijuana Mexico Temple won the PCI Design Award for Best International Building Structure in 2015. PCI stands for the Precast/Prestressed Concrete Institute.
---
Jerry Earl Johnston, "Members Rejoice at Tijuana Mexico Temple Groundbreaking," 24 Aug. 2012, 26 Sept. 2012 <https://www.churchofjesuschrist.org/church/news/members-rejoice-at-tijuana-mexico-temple-groundbreaking?lang=eng>.
The Church of Jesus Christ of Latter-day Saints News Release, "Five New Temples Announced," 2 Oct. 2010.