Lisbon Portugal Temple
Attaching gold plating to spire; stone cladding of exterior walls nearing completion; planting meetinghouse gardens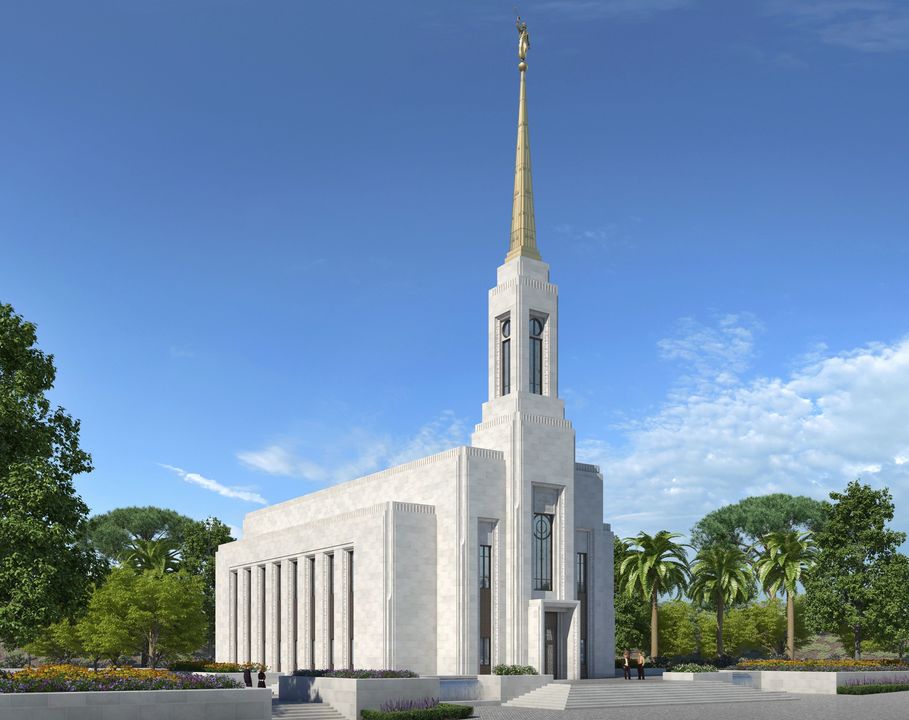 © Intellectual Reserve, Inc. All rights reserved.
Location
Avenida Dom João II
1990-364 Moscavide
Lisbon
Portugal

Announcement:
2 October 2010
Groundbreaking and Site Dedication:
5 December 2015 by Patrick Kearon
Total Floor Area:
23,730 square feet
Construction Status
As of October 2018, stone cladding of the exterior walls is well underway, and the exterior of the adjoining meetinghouse is complete. Landscaping efforts have begun with the planting of trees and shrubs.
Groundbreaking Ceremony
The groundbreaking ceremony for the Lisbon Portugal Temple was held on Saturday, December 5, 2015, at 12:00 noon. Elder Patrick Kearon, president of the Europe Area, presided.1
Temple Site
The Lisbon Portugal Temple site sits in the northeastern section of the city near the modern parish of Parque das Nações. Once a nondescript industrial area, the Parque das Nações neighborhood was redeveloped for the 1998 Lisbon World Exposition (known as Expo '98), featuring the theme: The Oceans, a Heritage for the Future. Today, Parque das Nações is a thriving hub of leisure, commercial, and residential activity on the Tagus River, boasting famed venues that include the Lisbon Oceanarium, the Vasco de Gama Tower, the twin São Gabriel and São Rafael towers, the Parque Das Nações Marina, the MEO Arena, the Vasco de Gama Center (shopping mall), and the Vasco de Gama Bridge. The area is beautified by volcano and waterfall fountains that can all be taken in from an overhead gondola lift.
Transportation to and from the temple will be greatly facilitated by the Lisbon Metro, as the site is located adjacent to the Moscavide station. The station opened in July 2012 in conjunction with the Encarnação and Aeroporto stations, expanding the line that serves the Lisbon Airport, situated just two miles west of the temple site.
On January 7, 2013, the Church announced that acquisition of land within the Lisbon city limits had been finalized for construction of the temple. However, a specific location for the site was not given at that time.2
Temple Announcement
In his opening remarks of the 180th Semiannual General Conference, President Thomas S. Monson announced the construction of a temple in Lisbon, Portugal—the first to be constructed in the country.3 The Saints of Portugal, organized into 6 stakes and 4 districts, currently attend the

56th operating templeMadrid Spain Temple, an approximately 390-mile (625-kilometer) drive from Lisbon.
Temple Facts
The Lisbon Portugal Temple will be the first temple built in Portugal.
---
The Church of Jesus Christ of Latter-day Saints News Release, "Groundbreaking Held for the First Temple in Portugal," 5 Dec. 2015.
The Church of Jesus Christ of Latter-day Saints News Release, "A Igreja adquire o terreno onde será construído o Templo de Lisboa," 7 Jan. 2013.
The Church of Jesus Christ of Latter-day Saints News Release, "Five New Temples Announced," 2 Oct. 2010.