Guatemala City Guatemala Temple
32nd dedicated temple in operation
Limited Operations
PHASE 3: TEMPLE OPEN FOR ALL ORDINANCES WITH RESTRICTIONS
Effective 22 February 2021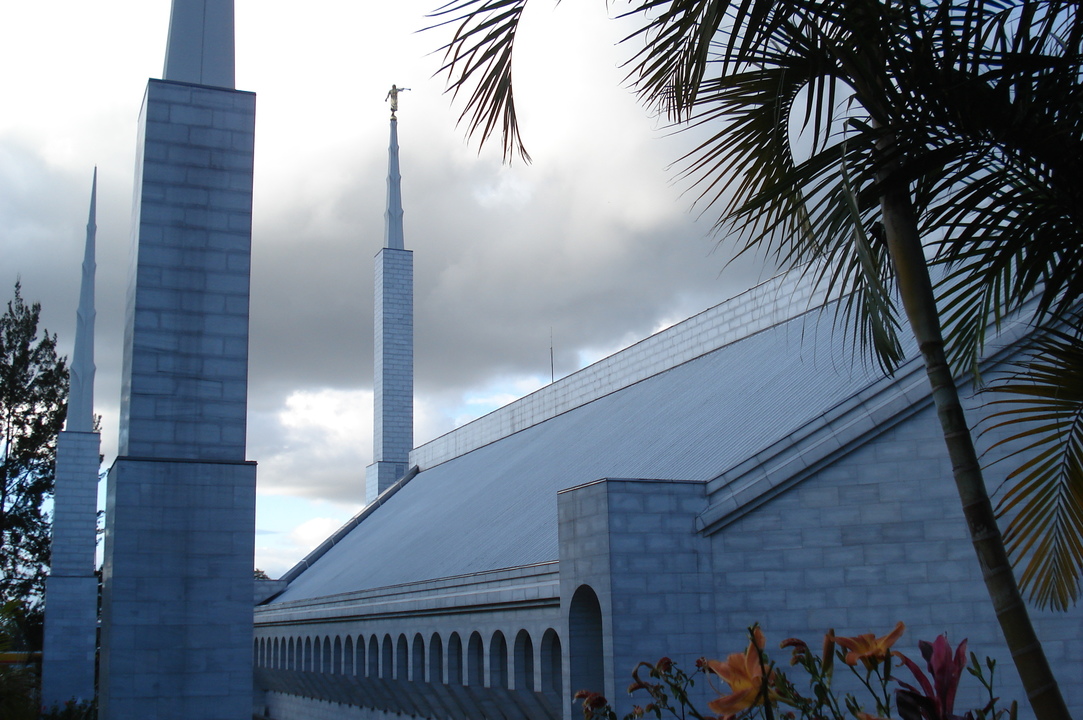 © Mark Croshaw. All rights reserved.
Services
Clothing rental available
NO cafeteria food served
Patron housing available
Distribution center nearby
(Store Locator)
Announcement:
1 April 1981
Groundbreaking and Site Dedication:
12 September 1982 by Richard G. Scott
Public Open House:
27 November–10 December 1984
Dedication:
14–16 December 1984 by Gordon B. Hinckley
Site:
1.4 acres
Exterior Finish:
Natural white Guatemalan marble
Architectural Features:
Six detached spires with an angel Moroni statue
Ordinance Rooms:
Four instruction rooms, three sealing rooms, and one baptistry
Total Floor Area:
11,610 square feet
Temple Locale
Overlooking the capital city of Guatemala, the Guatemala City Guatemala Temple stands on an elevated site in the neighborhood of Vista Hermosa on the eastern side of the city. A missionary training center and patron housing facility are also part of the temple complex. Six soaring spires surround the landmark building. The beautified ground are open to the public.
Temple Facts
The Guatemala City Guatemala Temple was the first temple built in Central America (and in Guatemala).
The Guatemala City Guatemala Temple was the third temple built in a Spanish-speaking country, following the Santiago Chile Temple (1983) and the México City México Temple (1983).
The Guatemala City Guatemala Temple was originally named the Guatemala City Temple.
John O'Donnal, an American who moved to Guatemala at age 24, traveled to Salt Lake City in 1946 and again in 1947 to plead with the president of the Church to send missionaries to Guatemala. Four elders arrived in December 1947, and the country was dedicated for the preaching of the gospel. O'Donnal later became the first president of the Guatemala City Guatemala Temple.
Sister Carmen O'Donnal—the first matron of the Guatemala City Guatemala Temple—was also the first native of Guatemala to be baptized into the Church.
Udine Falabella, who was the president of the first stake created in Guatemala, organized the first temple trip from the area to the Mesa Arizona Temple. Later, he became the fifth president of the Guatemala City Guatemala Temple.
During the two-week public open house of the Guatemala City Guatemala Temple, 24,206 people toured the edifice before its dedication. Volunteering at the temple were 179 missionaries, working in six-hour shifts. About 3,700 copies of the Book of Mormon were distributed, most of which had personally written testimonies inside by Guatemalan Saints.
Central American Saints traveled from near and far to attend the dedication of the Guatemala City Guatemala Temple. Participating nations included Honduras, El Salvador, and Costa Rica.
Civil War embroiled the nation of Guatemala at the time the Guatemala City Guatemala Temple was dedicated. In recognition of this strife, President Gordon B. Hinckley prayed in his dedicatory prayer: "May there be peace in the land. May it be preserved from revolution and war." By 1996, a peace accord had been signed.