Baton Rouge Louisiana Temple
94th dedicated temple in operation; closed for renovation; preparing for rededication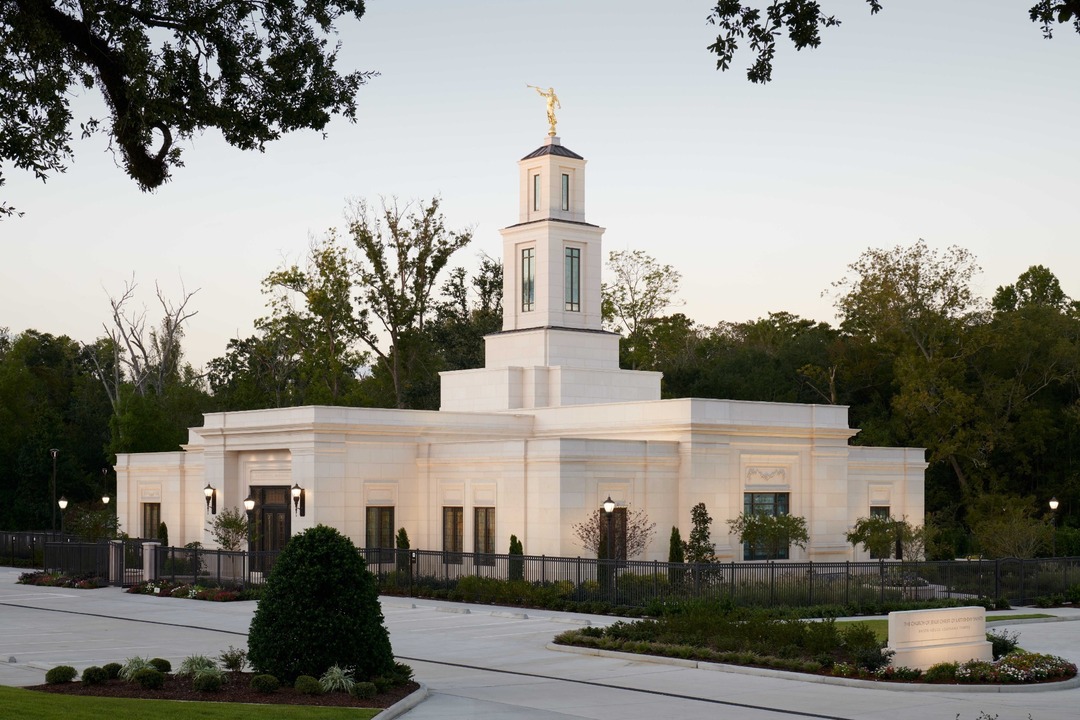 © Intellectual Reserve, Inc. All rights reserved.
Address
10339 Highland Road
Baton Rouge, Louisiana 70810
United States
Services
NO clothing rental available
NO cafeteria food served
NO patron housing available
NO distribution center nearby
(Store Locator)
Announcement:
14 October 1998
Groundbreaking and Site Dedication:
8 May 1999 by Monte J. Brough
Public Open House:
1–8 July 2000
Dedication:
16 July 2000 by Gordon B. Hinckley
Public Open House:
26 October–2 November 2019
Rededication:
17 November 2019 by Quentin L. Cook
Site:
6.3 acres
Exterior Finish:
Imperial Danby White marble from Vermont
Ordinance Rooms:
Two ordinance rooms (two-stage progressive) and two sealing
Total Floor Area:
10,700 square feet
Public Open House
The general public, including children of all ages, is invited to tour the newly renovated Baton Rouge Louisiana Temple from October 26 through November 2, 2019. No reservations are needed. Tours and activities will be hosted during the following hours:
Monday–Thursday: 2:00 p.m. to 8:00 p.m.
Friday–Saturday:  8:00 a.m. to 8:00 p.m.
Sunday: Closed
Rededication
Elder Quentin L. Cook, a member of the Quorum of the Twelve Apostles, will preside over the single rededicatory session of the Baton Rouge Louisiana Temple on Sunday, November 17, 2019. The temple will re-open November 23, 2019, for temple work.
Temple Renovation
The Baton Rouge Louisiana Temple closed on January 28, 2018, for extensive renovation. During the closure, temple patrons will be accommodated at temples located in neighboring states.
Temple Facts
The Baton Rouge Louisiana Temple was the first temple built in Louisiana.
The groundbreaking ceremony for the Baton Rouge Louisiana Temple was held on the same day as the groundbreaking ceremony for the Suva Fiji Temple.
Groundbreaking Ceremony
Elder Monte J. Brough of the Seventy and president of the North America Southeast Area presided at the groundbreaking ceremony for the Baton Rouge Louisiana Temple. During his remarks, Elder Brough said that the greatest revelation of the latter days was Joseph Smith's first vision. "This experience allowed Joseph to have actual knowledge of the Father and the Son," he said. Elder Brough further explained that all men must come to know the only true God and His Son Jesus Christ. That is the purpose of temples, he affirmed. "It is a process whereby we come to know Jesus Christ because we act as saviors, in a modest sense, to bring to those who have not had a chance across this earth and those who lived prior to our time the opportunity to hear the gospel, to accept the gospel and to be members of Heavenly Father's Church."1
Elder Brough also spoke of the revelation on September 21, 1823, when the Angel Moroni appeared to Joseph Smith and quoted Malachi: "The hearts of the children shall turn to their fathers." Elder Brough indicated that the dramatically increased interest in family history research, rapidly changing technology and dozens of temples currently being constructed across the earth are fulfilment of Malachi's prophecy. "Last year, " he said, "the Family History Department filmed in many different countries, gathering millions of names. At current rates, we have collected enough names to keep the temples busy for a long time," he said. "We really have no excuse."2
---
Strawn, Karen, and Gayle Smith, "2,000 attend ceremony for Louisiana's first temple," Church News 17 Feb. 2001: 3.
Smith 3.