Winnipeg Manitoba Temple
Preparing for dedication; scheduled to be dedicated on 31 October 2021
Limited Operations
PHASE 3: TEMPLE OPEN FOR ALL ORDINANCES WITH RESTRICTIONS
Effective 1 November 2021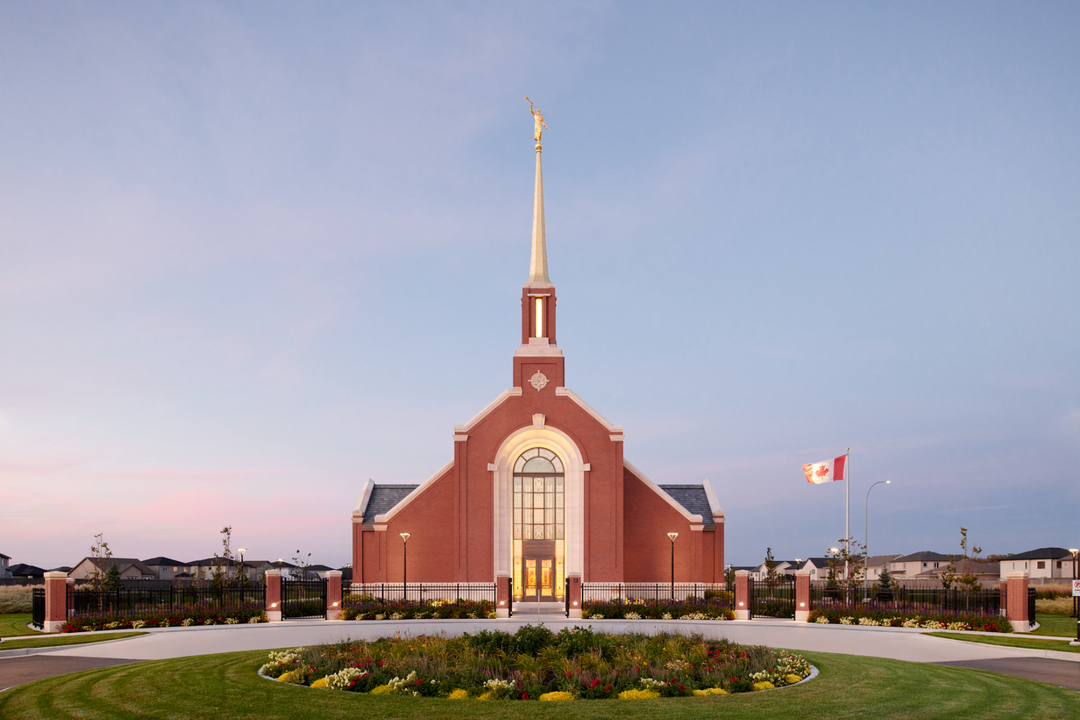 © Intellectual Reserve, Inc. All rights reserved.
Location
15 Centre Street
Winnipeg, Manitoba
Canada
Announcement:
2 April 2011
Groundbreaking and Site Dedication:
3 December 2016 by Larry Y. Wilson
Public Open House:
9–23 October 2021
Dedication:
31 October 2021 by Gerrit W. Gong
Exterior Finish:
Brick
Architectural Features:
Single attached end spire with an angel Moroni statue
Ordinance Rooms:
One instruction room, one sealing room, and one baptistry
Total Floor Area:
16,100 square feet
Public Open House
People of all faiths, including children, are invited to attend an open house of the Winnipeg Manitoba Temple of The Church of Jesus Christ of Latter-day Saints. Admission is free, and no reservations are required.
Dates:
  Saturday, October 9, through Saturday, October 23, 2021, except for Sunday, October 10; Monday, October 11; and Sunday, October 17.
Location:
  2 Centre Street, Winnipeg, Manitoba –
View Map
Dress:
  Modest dress is requested.
Parking:
  Parking attendants will guide you to an available parking space.
Youth Devotional
A youth devotional will be held on Sunday, October 24, 2021—a week prior to the dedication. Youth ages 12–18 are invited to hear from Church leaders. The devotional will be broadcast to meetinghouses in the temple district.
Dedication
Elder Gerrit W. Gong of the Quorum of the Twelve Apostles will dedicate the Winnipeg Manitoba Temple on Sunday, October 31, 2021, in four sessions at 8:00 a.m., 10:00 a.m., 12:00 noon, and 2:00 p.m with an additional session if needed. All sessions will be broadcast to meetinghouses in the temple district.
Groundbreaking Ceremony
The formal groundbreaking ceremony for the Winnipeg Manitoba Temple was held on Saturday, December 3, 2016, at 12:00 noon. Elder Larry Y. Wilson of the Seventy and executive director of the Temple Department presided at the services, which were broadcast to local Church meetinghouses for the general public. Invited community, government, and interfaith leaders were also in attendance.1
Construction Approval
On September 12, 2016, plans for the Winnipeg Manitoba Temple were officially approved by the local government.
On August 25, 2016, a community open house was held for elected officials, multi-faith leaders, neighborhood group leaders, community residents, and local Church leaders regarding the proposed Winnipeg Manitoba Temple. Attendees viewed architectural drawings, including site plans, elevations, and a colored rendering of the temple. Information was presented on the history of the Church in Manitoba as well as the purpose and significance of temples to members of the Church. The architect shared specific information regarding the building and plans for construction in the Bridgwater Forest community in south Winnipeg. Great interest, enthusiasm, and anticipation were evident as attendees asked questions and made comments. The Church anticipates applying for building permits with the City this fall with a groundbreaking to occur after approvals have been secured. Construction of the temple is expected to take approximately 20 months.2
Temple Design
The design for the Winnipeg Manitoba Temple draws inspiration from the churches of early Winnipeg. It features a red brick exterior, slate roof, and gold-colored spire over the main entrance. Original art glass windows will depict the prairie crocus.
Temple Site
The Winnipeg Manitoba Temple will stand on a beautiful tract of land at the entrance to The Neighbourhoods of Bridgwater located in the southwestern portion of the city.
Temple Announcement
Canada's ninth temple was announced for Winnipeg, the capital and largest city of Manitoba, during President Thomas S. Monson's opening remarks of the April 2011 General Conference. The temple will serve members of the Winnipeg area who currently travel 400 miles (600 kilometers)—a 6½-hour drive—to the temple in Regina, Saskatchewan.3
Temple Facts
The Winnipeg Manitoba Temple will be the ninth temple built in Canada and the first built in Manitoba.
Temple History
During a 12-city tour of Canada in 1998, President Gordon B. Hinckley addressed an audience of over 1,500 members who had gathered in the Winnipeg Manitoba Stake Center to hear the prophet's words. "I have never been here before," said President Hinckley. "I've seen it on the map. I knew it existed, but I've never been here." The prophet was not the only one who had traveled long distances that day. Some members drove six hours each way to be at the meeting, and others arrived 12 hours early, waiting at the stake center for the meeting to begin.
President Hinckley complimented the Saints saying, "You look so good to me. You people pray. You pay your tithing. You're good citizens. Thank you for being what you are." He spoke of temple service and added, "I have asked your stake president how far you go to the temple. Some drive 14 hours." He continued, "Some time you will have a temple. But not now. Keep on driving. I urge everyone of you, don't wait for it." The members were deeply moved by the prophet's warmth and his stirring testimony. In his closing remarks, he said, "I just wanted to repeat, we love you." He continued, "Every man, woman, boy and girl in this Church is important. The Lord will bless you as you serve Him in righteousness."4
---
The Church of Jesus Christ of Latter-day Saints News Release, "Groundbreaking Announced for New Mormon Temple in Canada," 17 Nov. 2016.
The Church of Jesus Christ of Latter-day Saints News Release, "Winnipeg Mormons Host Community Open House for Proposed Temple," 2 Sept. 2016.
The Church of Jesus Christ of Latter-day Saints News Release, "Church Announces New Temples in Canada, Colorado and Idaho," 2 Apr. 2011.
Janet Kruckenberg, "Stake center filled for president's visit," 15 Aug. 1998, 27 Aug. 2010 .Church News