News Stories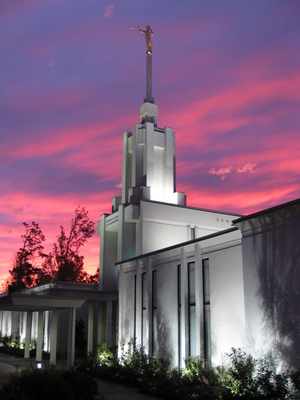 Photo: Fredrick Lee
Phase 2 Reopenings Continue Next Monday
On Monday, October 5, the following four temples will move from Phase 1 to Phase 2 of reopening: the Asunción Paraguay Temple, the Córdoba Argentina Temple, the Kona Hawaii Temple, and the Laie Hawaii Temple. This brings the total number of temples in Phase 2 to 107. The Santiago Chile Temple will begin Phase 1 of reopening on the same day.
Santiago Chile Temple's Moroni Loses Trumpet But Undamaged in Major Quake
A massive earthquake rocked the nation of Chile today with an epicenter near the coastal city of Concepci n where a temple was recently announced. The temple in Santiago sustained no damage, but Moroni's trumpet was lofted from his grip.
Santiago Chile Temple President Honored by Chilean Government
President Ted Lyon, president of the Santiago Chile Temple, was the recipient of Chile's highest honor given to a foreigner in recognition of his eight years of Church service in Chile. "It has been a privilege to serve to Chile and we will keep on serving, because one comes to love those he serves," Lyon said.