Port-au-Prince Haiti Temple
Stone cladding the tower and front exterior walls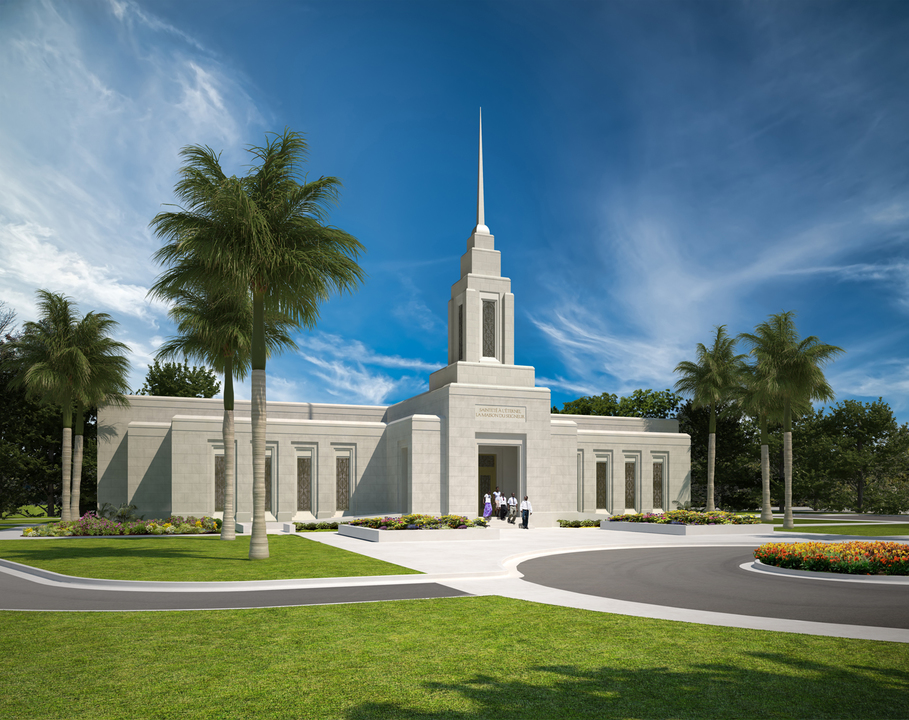 © Intellectual Reserve, Inc. All rights reserved.
Location
Port-au-Prince
Haiti

Announcement:
5 April 2015
Groundbreaking and Site Dedication:
28 October 2017 by Walter F. González
Public Open House:
20 April–4 May 2019
Dedication:
19 May 2019
Total Floor Area:
10,042 square feet
Construction Status
As of September 2018, the exterior walls of the Port-au-Prince Haiti Temple are being waterproofed and readied for the attachment of stone.
Groundbreaking Ceremony
The groundbreaking ceremony for the Port-au-Prince Haiti Temple was held on Saturday, October 28, 2017. Elder Walter F. González of the Seventy and president of the Caribbean Area presided.
Temple Site
At a stake conference held in Port-au-Prince on Sunday, March 12, 2017, Elder Neil L. Andersen of the Quorum of the Twelve Apostles announced that the Church had acquired the property behind the meetinghouse on Route de Freres for construction of the Port-au-Prince Haiti Temple. One wing of the meetinghouse will be enlarged to create an arrival center featuring bathrooms with showers, locker space, dining tables, and a waiting room. Also on the property, a temple president's residence and ancillary building will be built. The ancillary building will house utility equipment and a Distribution Services Center.
Temple Announcement
On April 5, 2015, during the Sunday Morning Session of the 185th Annual General Conference, President Thomas S. Monson announced that a new temple would be constructed in the city of Port-au-Prince, Haiti. Haiti is home to approximately 10 million people including more than 19,000 members of the Church. The Port-au-Prince Haiti Temple will be the first in the country where missionary work officially began in 1980. Church members in Haiti currently attend temple services in the


99th operating templeSanto Domingo Dominican Republic Temple, requiring nearly a day's journey.1
A temple in Port-au-Prince will be an enormous lift and blessing to the Saints of Haiti who have endured substantial suffering in the aftermath of the 2010 Haiti earthquake and subsequent outbreak of cholera in one of the poorest countries in the world. The natural disaster destroyed countless vital records, creating an obstacle for members who wish to cross the border into the Dominican Republic but who are unable to present valid birth certificates. The Church is growing steadily in this island nation where its third and fourth stakes were recently organized in 2012—all four stakes being headquartered in the Port-au-Prince metropolitan area, which boasts well over two million residents.
Temple Facts
The Port-au-Prince Haiti Temple will be the first temple built in Haiti and the second built in the Caribbean, following the


99th operating templeSanto Domingo Dominican Republic Temple (2000).
---
"New Temples Announced: Abidjan, Ivory Coast (Côte d'Ivoire); Port Au Prince, Haiti; Bangkok, Thailand," The Church of Jesus Christ of Latter-day Saints News Release, 5 Apr. 2015.