Manti Utah Temple
Latest News
News Stories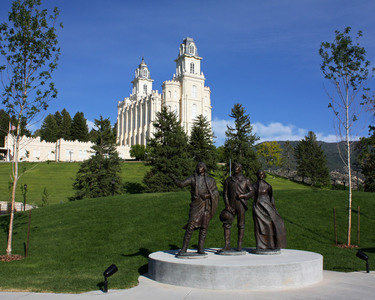 Pageants to Be Discontinued in Utah and New York
Mormon Miracle Pageant Resumes Tonight in Manti
The annual Mormon Miracle Pageant held on Temple Hill in beautiful Manti, Utah, commences its final week of performances tonight. The pageant tells the story of the Prophet Joseph Smith and enacts scenes from the Book of Mormon.
Pioneer Heritage Center and Gardens Dedicated in Manti
Beautiful gardens honoring the early settlers of the Sanpete Valley have been dedicated in the shadows of the
Manti Utah Temple
. The 2.5-acre park features a reflecting pool for the temple, park benches, an amphitheater, and finely crafted statues.
Manti Temple Grounds Become Venue for Annual Mormon Miracle Pageant
The 44th season of the Mormon Miracle Pageant began this week in Central Utah on the grounds of the
Manti Utah Temple
. Admission is free. Performances begin at 9:30 p.m. on June 17-19, 22-26.
Final Weekend of the Mormon Miracle Pageant in Manti
A long-held summer tradition at the
Manti Utah Temple
grounds is the presentation of the Mormon Miracle Pageant. This is the final weekend of the pageant, which is free to anyone who wishes to attend. Click here to listen to a recent interview with the pageant president.