News Stories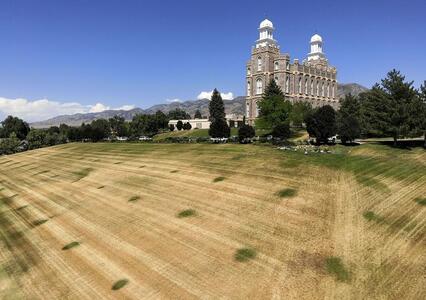 Photo: Eli Lucero | Herald Journal
West Lawn of Logan Utah Temple Goes Dormant
In its efforts to conserve water in the drought-afflicted areas of the western United States, the Church has allowed the iconic west lawn of the Logan Utah Temple to go dormant. "We're trying to do our part with the community to ration water, and that's a lot of grass on that western hill to keep alive. It takes a lot of water," said Temple Recorder David Dayhuff. "We're giving it some water," he said, "but considerably reduced."
Read more
.
Photo: Rick Satterfield
Temple Cafeterias to Permanently Close Early Next Year
A news release issued today from The Church of Jesus Christ of Latter-day Saints states: "After careful consideration, and to simplify temple operations, The Church of Jesus Christ of Latter-day Saints will permanently close the cafeterias inside its temples in early 2022. The Guayaquil Ecuador Temple and Hamilton New Zealand Temple will require a longer transition period. Cafeterias that are currently closed due to the pandemic will not reopen." There are 24 temples with cafeterias.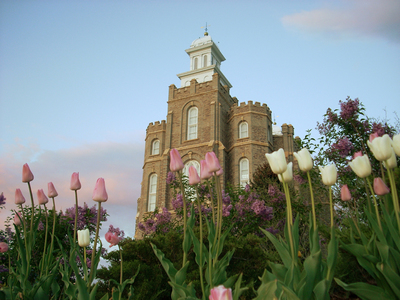 Photo: Benjamin Hibshman
Phased Reopening of Temples Announced
In a letter written to Church members, the First Presidency has announced: "With profound gratitude to our Heavenly Father that He has heard our prayers, we rejoice in announcing a carefully coordinated, cautious, and phased reopening of temples. With this letter, we are authorizing the reopening of 17 temples." Those temples—located in Utah, Idaho, Germany, and Sweden—will reopen on May 11, 2020 under phase 1, which allows living sealings only under strict guidelines and safety precautions.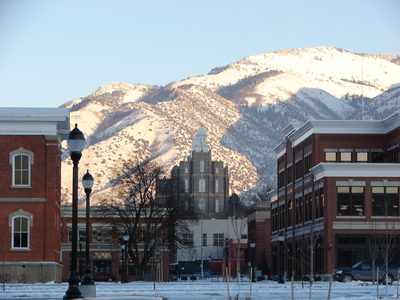 Photo: Scott C. Sorensen
Christmas Eve Break-In at the Logan Utah Temple
A broken window and suspected break-in at the Logan Utah Temple were reported to police early Tuesday morning at about 3:30 a.m. The officers entered the building and spent several hours ensuring that the temple was secure and noting the damage that had been done to windows, walls, and paintings—apparently with an ax. The suspect was located at 7:30 a.m., locked inside a room on the main level. He was taken into custody. Work on making repairs began immediately with the hope that the temple could open on Thursday as previously scheduled, but that has not yet been determined.
After 32 Years, Logan Utah Temple Groundskeeper Retires
"I've always loved to serve the people and see things grow and become more beautiful," says Gordon Bingham, the 68-year-old groundskeeper for the Logan Utah Temple. After 32 years of service, Bingham will officially retire from his post at the temple on June 1.
Pioneer-Inspired Temple Grounds To Replace 70s Style in Logan
In redesigning the Logan Utah Temple grounds, the designers asked themselves, "If the pioneers had built this, what would it look like?" That concept includes a large oval reflecting pool, similar to the reflecting pool that now sits in front of the Salt Lake Temple.