Hamilton New Zealand Temple
Latest News
News Stories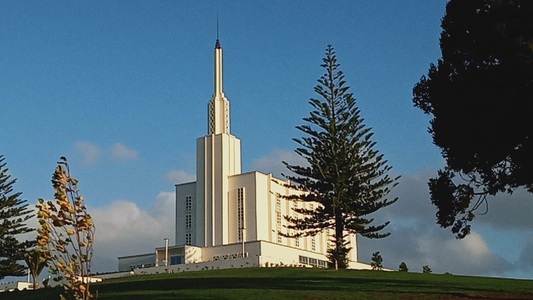 New Exhibit Features the Hamilton New Zealand Temple
A devotional and exhibit tour will be held tomorrow at the Matthew Cowley Pacific Church History Centre for youth living in the stakes in the Hamilton area of New Zealand. The new exhibit, entitled
Sacrifice and Consecration: The Lord Builds a People for the Temple
, highlights the unique history behind the construction of the Hamilton New Zealand Temple and former Church College of New Zealand, which were built entirely by volunteer missionary labor. The community of Temple View continues to evolve with the renovation of the temple and the repurposing of the college campus.
Masterplanned developments
are currently under construction that achieve a harmonious blend of historic and modern design with a pleasing balance of man-made and natural spaces.