News Stories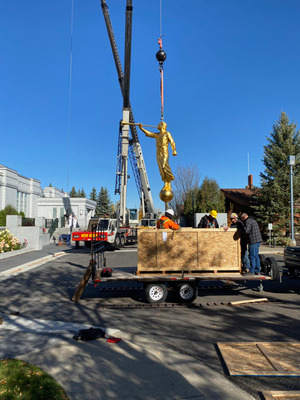 Photo: Robert Mendenhall and Paul Jensen
Moroni Replaced on the Edmonton Alberta Temple
On Monday, October 4, the angel Moroni statue on the Edmonton Alberta Temple was replaced as the result of an assessment made two years ago that identified sufficient weather and bird damage to merit a replacement. The 300-pound fiberglass statue was a refurbished Moroni from another temple. The exiting statue is likewise being refurbished for use on another temple. The Temple Facilities Manager climbed into the 18-inch space inside the steeple to disconnect the lightning rod cable and post that secure the statue in place. Two cranes were used for removal and installation—one for the statue and the other for the installer. The new statue was reattached to the post and secured.
Repairing the Facade of the Edmonton Alberta Temple
The facade of the is currently undergoing repair to correct an issue with how the marble cladding was sealed. Moisture soaked through to the adhesive causing dark spots to become visible on the marble surface.
New Entrance to Edmonton Alberta Temple Revealed
With the removal of construction materials from the entrance of the Edmonton Alberta Temple, the beautiful finished product is revealed in this construction photograph series including stone-clad stairs and planters and decorative iron railing that features a motif of sheaves of wheat and the famous Alberta rose. Art glass windows near the baptistry were also replaced.
Wrapping Up the Edmonton Alberta Temple Renovation
Decorative stones representing sheaves of wheat and the Alberta rose have been installed in the new planters located below the recently enclosed canopy of the Edmonton Alberta Temple, Alberta's second temple. A third temple is under construction in Calgary, Alberta.
Entrance Canopy Enclosed at Edmonton Alberta Temple
After several months of work, the new entrance to the Edmonton Alberta Temple is nearing completion. The once open canopy has been enclosed, giving patrons protection from the cold Edmonton weather. The front-loading staircase has been replaced with two side-loading staircases.
Edmonton Alberta Temple Entrance Now Enclosed
Edmonton Alberta Temple patrons enduring the cold winter weather at the 53rd parallel will be assisted by a newly enclosed entrance currently under construction at the temple. The project is expected to be completed by early December. View a photograph series of the progress.