News Stories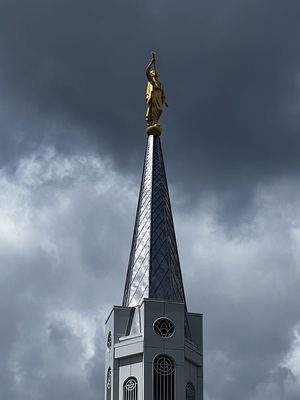 Photo: AJ Buruca
Replacement of Boston Massachusetts Temple Steeple Completed
Installation of the shiny new steeple atop the Boston Massachusetts Temple has been completed. Work began at the beginning of the month. The new structure remedies a water leakage problem that was causing damage to the south patio. The beautiful edifice became the 100th dedicated temple in operation when it was President Hinckley dedicated it on October 1, 2000.
Photo: AJ Buruca
Replacing the Boston Massachusetts Temple Steeple
The steeple on the Boston Massachusetts Temple is slated to be replaced beginning Monday, April 3, due to a water leakage problem that has necessitated months of remediation construction to the south patio, located above the distribution center. The temple was dedicated in October 2000 without a steeple because of a pending lawsuit that contested its height. The Church won the case on appeal, and the 139-foot structure was added about a year after the dedication.
Boston Massachusetts Temple Now on Hinckley Way
The Frontage Road address for the has created confusion for out-of-town patrons who are guided by GPS to South Boston instead of Belmont. To rectify the situation, Belmont civic leaders have agreed to rename the road Hinckley Way.