News Stories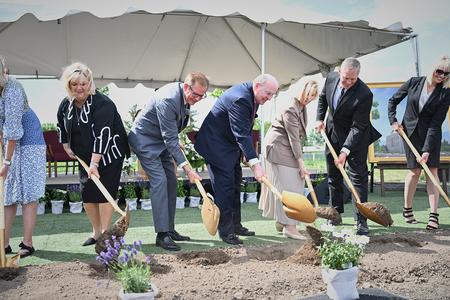 Photo: Intellectual Reserve, Inc.
Groundbreaking Held for the Smithfield Utah Temple
"I love this beautiful valley," said Elder Quentin L. Cook of the Quorum of the Twelve Apostles on a windy Saturday morning at the groundbreaking ceremony for the Smithfield Utah Temple. "I have seen much of the world, but this peaceful valley surrounded by these majestic mountains always feels like home to me. It is among the most beautiful places on earth." Elder Cook was accompanied by Elder Gary E. Stevenson of the Quorum of the Twelve, both of whom were raised in Cache Valley. They expressed their delight in the construction of a second temple for the valley, joining the historic Logan Utah Temple. Plans call for the construction of a three-story temple on a 13.3-acre parcel at N 800 West and W 100 North in Smithfield, which had been farmed by the LaMont Poulsen family for more than 160 years. In his site dedicatory prayer, Elder Cook said, "Our hearts are full of appreciation for those who have gone before us and who have laid the foundation for a temple in northern Cache Valley." He added, "We pray that this temple will be a beacon light for the communities it serves."