Salt Lake Temple
Latest News
News Stories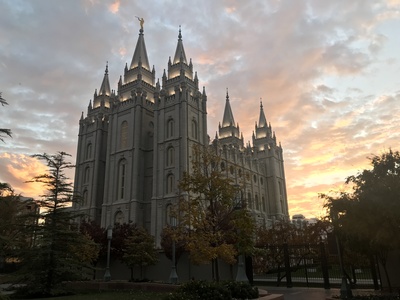 Renovations Coming to Pioneer-Era Temples
Before his announcement of twelve new temples to be constructed across the globe, President Russell M. Nelson announced that plans were underway to renovate and update the temples of the pioneer generation including the historic

4th operating templeSalt Lake Temple
. The dates and details of those projects will be announced as they are developed.
Salt Lake Temple Plays Backdrop to Youth Flash Mob
LDS Youth of the South Jordan Utah River Stake proclaimed their testimony of Christ—after completing the Book of Mormon—with a flash mob set in front of the iconic

4th operating templeSalt Lake Temple
.
Salt Lake Temple Open House Experience in Visitors' Center
It's been over 100 years since the public was invited to tour the

4th operating templeSalt Lake Temple
, but a new permanent exhibit opened in the South Visitors' Center today featuring a near-identical 1:32 scaled replica of the temple, offering an open house experience of this magnificent edifice.
Prayers for Haiti Offered Near Salt Lake Temple Reflection Pool
On Sunday, January 17, families and friends with connections to Haiti, including former missionaries, gathered at the

4th operating templeSalt Lake Temple
grounds near the reflection pool to pray and sing for their suffering brothers and sisters in the region of Port-au-Prince.
Christmas Lights at Temple Square a Long-Held Tradition
It's been 44 years since the first strands of Christmas lights were weaved through the landscaping of Temple Square. The long-time tradition was once accompanied by an opening ceremony, but the popularity of the event brought crowds that were too large.
Rumors of a Salt Lake Temple Closure Unfounded
"There are no plans to close the

4th operating templeSalt Lake Temple
for remodeling," said Elder William R. Walker, Executive Director of the Temple Department. Rumors of a closure accompanied the opening of two new temples in the Salt Lake Valley in Draper, Utah and South Jordan, Utah earlier this year.
Million Dollar Views of Salt Lake Temple For Sale
Million dollar views of the

4th operating templeSalt Lake Temple
and Oquirrh Mountains are for sale in the Church's new mixed development in downtown Salt Lake City, called City Creek Center. The high-rise condominiums in Richards Court and The Regent are selling despite the economic downturn.
Garden Tours and Advice Offered at Temple Square
The Church of Jesus Christ of Latter-day Saints is now hosting tours of its famously landscaped grounds in and around Temple Square. Tours and lectures by expert horticulturists will be offered regularly through the summer months. For more information, please read this news article.