Richmond Virginia Temple
Securing building permits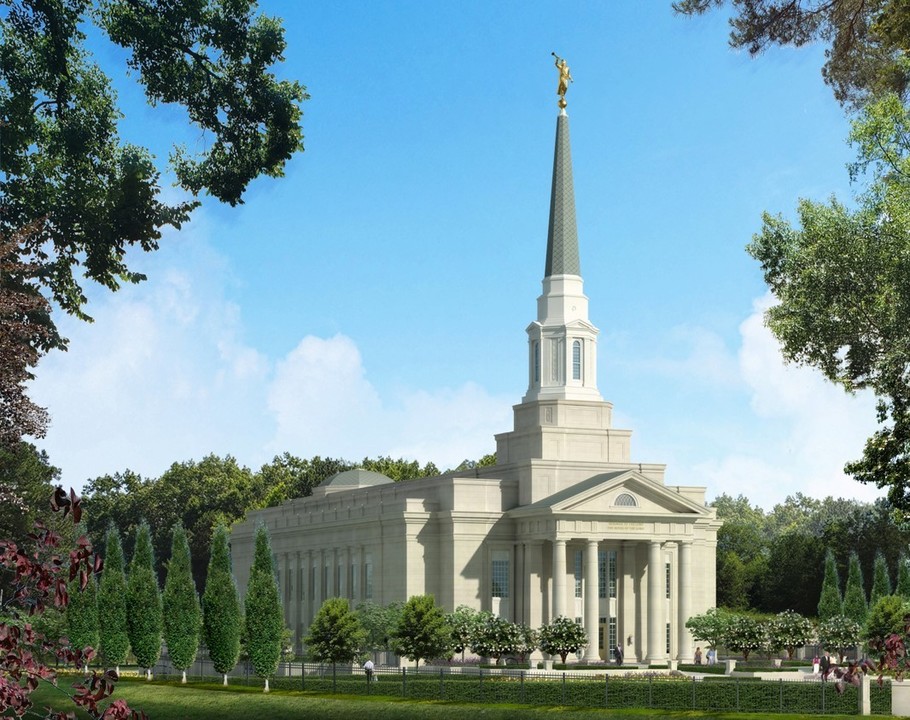 © Intellectual Reserve, Inc. All rights reserved.
Announcement:
1 April 2018
Site:
11.17 acres
Ordinance Rooms:
Four ordinance rooms (stationary) and three sealing
Total Floor Area:
40,531 square feet
Construction Status
On November 20, 2019, the Henrico County Planning Commission approved the plan of development and the lighting plan for the Richmond Virginia Temple. Church representatives are currently obtaining building permits. A groundbreaking is expected to take place in the second or third quarter of 2020.
On August 28, 2019, an open house was held for Church members, neighbors, and journalists where eight interior and exterior renderings of the Richmond Virginia Temple were on displayed. A site plan shows the orientation of the temple, an adjoining meetinghouse, and a maintenance building.
Temple Rendering
On August 28, 2019, the official rendering of the Richmond Virginia Temple and renderings of the interior were released to the public in conjunction with an open house held for Church members, neighbors, and journalists.
Temple Design
Preliminary plans for the Richmond Virginia Temple, submitted to Henrico County on March 22, 2019, proposed a two-story, 36,200-square-foot temple with a large steeple capped with an angel Moroni statue, an adjoining 16,200-square-foot meetinghouse, a maintenance building, extensive landscaping, and a total of 240 parking spaces. An existing two-story home at 4151 Mountain Road will remain as a residence for the temple president and matron.1
Temple Site
The Richmond Virginia Temple will be constructed on an 11-acre wooded site at 10915 Staples Mill Road in Henrico County near Glen Allen.
Temple Announcement
The first temple to be constructed in the state of Virginia was announced by President Russell M. Nelson at the 188th Annual General Conference. "It is a dream come true," said Ruby Barley of the announcement. The 89-year-old and her family were among the first baptized in Spotsylvania County near Fredericksburg, Virginia. Jenni McCall, a Relief Society president in Stafford County was "ecstatic" about the announcement. "This will make such a difference to all of us," she said. Church members currently travel to the Washington D.C. Temple to participate in temple services, often enduring heavy stop-and-go traffic.2
Missionaries for the Church first arrived in Virginia in the early 1840s. By 1841, approximately 80 people had joined the Church in Virginia. There are now nearly 100,000 members across the state, which had previously been the state with the most members without a temple. Richmond is the capital of Virginia, and its central location will serve the members in Virginia well.3
Temple Facts
The Richmond Virginia Temple will be the first temple built in Virginia.
---
J. Elias O'Neal, "Plans filed for 52,000-square-foot Mormon temple complex in Henrico," Richmond BizSense 27 Mar. 2019, 27 Mar. 2019 <https://richmondbizsense.com/2019/03/27/plans-filed-52000-square-foot-mormon-temple-complex-henrico/>.
Emily Jennings, "Local Latter-day Saints look forward to a new Mormon temple in Richmond," The Free Lance–Star 18 May 2018, 5 Oct. 2018 <https://www.fredericksburg.com/features/religion/local-latter-day-saints-look-forward-to-a-new-mormon/article_75e06594-19d2-5244-8f30-99fb0a01fb1e.html>.
"Seven Temples Announced as April 2018 General Conference Closes," The Church of Jesus Christ of Latter-day Saints News Release, 1 Apr. 2018.