Richmond Virginia Temple
Latest News
News Stories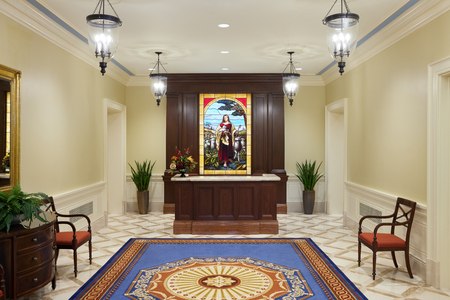 Photo: Intellectual Reserve, Inc.
First Look at the Richmond Virginia Temple Interior
Interior photographs and a
video tour
of the Richmond Virginia Temple have been released today in conjunction with the media day for the open house. "The temple isn't just the Church of Jesus Christ's temple. It's Virginia's temple," said local member Ashlee Stettler. "You'll feel a sense of Virginia and a sense of community. You'll feel like it's yours." The temple design reflects a blend of Georgian, Federal, and Jeffersonian architecture. The foyer gives a nod to Jeffersonian motifs in the vibrant area rug that features a octagon pattern—true to the period—with Virginia's state flower, the dogwood blossom. A one hundred-year-old repurposed art glass of Jesus with His sheep has been incorporated in the panel behind the welcome desk.