Richmond Virginia Temple
Latest News
News Stories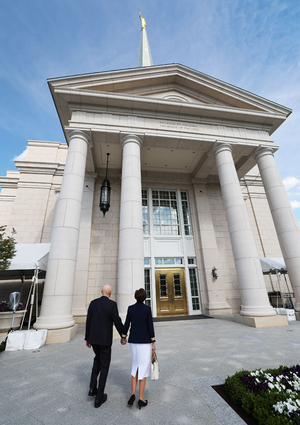 Photo: Intellectual Reserve, Inc.
President Oaks Dedicates the Richmond Virginia Temple
The Richmond Virginia Temple was dedicated today in two sessions by President Dallin H. Oaks of the First Presidency. "Every temple is beautiful, but this is an especially impressive House of the Lord for this great Commonwealth of Virginia," said President Oaks, who was impressed by the temple's historic architecture, rich coloring, and inspiring art that reflect the state's distinct heritage. "Temples are essential to our Heavenly Father's plan for His children," he taught. "In these Houses of the Lord, we are taught the most important things we can learn in mortality, the knowledge of eternity." The temple is located in the state capital and is the first to be constructed in Virginia.