Port Vila Vanuatu Temple
Latest News
News Stories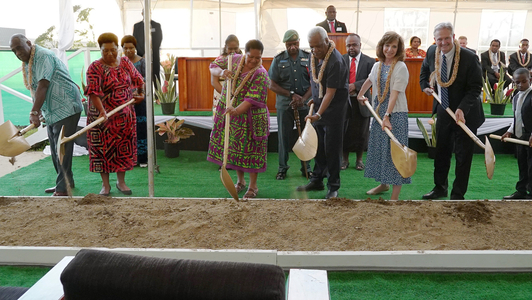 Photo: Intellectual Reserve, Inc.
Groundbreaking Held for the Port Vila Vanuatu Temple
Elder K. Brett Nattress, president of the Pacific Area, presided at the groundbreaking ceremony for the Port Vila Vanuatu Temple on Saturday, April 8, 2023. The president of Vanuatu, His Excellency Nikenike Vurobaravu, and his wife Rima Vurobaravu were in attendance along with the Honourable Prime Minister Altoi Ismael Kalsakau and his wife Ellene Kalsakau. After quoting a passage from the Book of Mormon that God "remember[s] those who are upon the isles of the sea," Elder Nattress said, "The Vanuatu temple is evidence of God's promise." In his site dedicatory prayer, he asked, "May the transcendent beauty of the temple become a place of peace and spiritual strength for the local residents and for all who will come and visit here."