Nauvoo Illinois Temple
Latest News
News Stories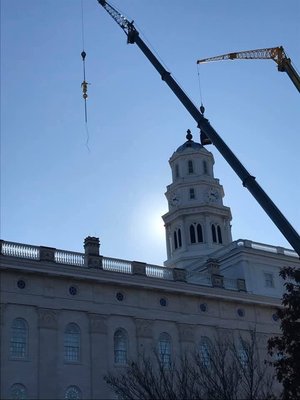 Angel Moroni Replaced on Nauvoo Illinois Temple
A newly gilded statue of the angel Moroni was placed atop the tower of the Nauvoo Illinois Temple yesterday, replacing the former statue that had been charred by a lightning strike on June 28, 2019. It was a big event for the small town that is home to several Church historic sites. The temple was dedicated in 2002 as a reconstruction of the temple built by the early Saints of Nauvoo in 1846. It was tragically destroyed by arson fire in 1848.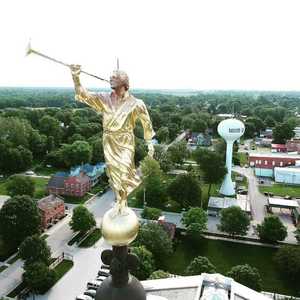 Nauvoo Illinois Temple Struck by Lightning
On Friday afternoon, June 28, a severe thunderstorm passing through western Illinois sent lightning toward the Nauvoo Illinois Temple, striking the statue of the angel Moroni and blackening its face and upper torso. The reverberating boom stunned temple patrons, tourists, and Nauvoo residents. Temple lightning strikes are not uncommon, and the steeples of temples are equipped with grounding devices to minimize damage.
Nauvoo Pageant: A Tribute to Joseph Smith
Through the end of July, performances of the Nauvoo Pageant will be held just 2 blocks west of the Nauvoo Illinois Temple every Tuesday through Saturday evening. The pageant is a glimpse of the sacrifice and faith of those special settlers who came to Nauvoo and built a city from a swamp.
Nauvoo Pageant Performances Begin Tonight
Celebrating the legacy of the early Latter-day Saints whose faith brought them to a bend in the Mississippi River, the Nauvoo Pageant is a free musical production open to anyone who wishes to taste of the joy and sorrows of the Nauvoo Saints. Performances run Tuesday–Saturday until August 1.