News Stories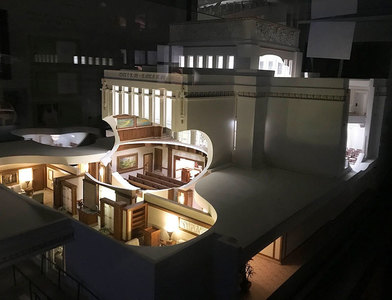 Photo: Stephen B. Allen
Cut-Away Model Put on Display in the Laie Hawaii Temple Visitors' Center
The Church's fifth cut-away model of a temple has been put on display in the visitors' center for the fifth dedicated temple in operation—the Laie Hawaii Temple. The exquisitely detailed model took eight months to build on the mainland of the United States. It was then disassembled and shipped to Hawaii where it was reassembled in a week. The beautiful gift arrived in the 100th anniversary year of the temple, which was dedicated by President Heber J. Grant on Thanksgiving Day, November 27, 1919. Other cut-away models of temples are located in the visitors' centers at the Salt Lake Temple, Washington D.C. Temple, Paris France Temple, and Rome Italy Temple.
Rededication and Cultural Celebration of Laie Hawaii Temple
President Thomas S. Monson rededicated the Laie Hawaii Temple on Sunday, November 21, following a cultural celebration held the evening before at 6:00 p.m., live at the Cannon Activities Center and broadcast to Hawaiian meetinghouses.
Open House Begins for the Newly Renovated Laie Hawaii Temple
Following a breathtaking restoration and renovation project, the Laie Hawaii Temple has opened its doors to the public, offering a peaceful, heavenly experience to all who wish to tour the sacred structure during a three-week open house prior to its rededication as the House of the Lord.
Visitors are Welcomed to Tour the Laie Hawaii Temple
Beginning Friday, October 22, visitors will be welcomed to tour the Laie Hawaii Temple for the first time in 32 years. The temple has been magnificently restored and renovated. Reservations are preferred, which are available at lds.org/reservations.
Website Launched for Laie Hawaii Temple Rededication
The Laie Hawaii Temple Rededication Committee has launched a website to provide information on the rededication activities for the temple including the open house, youth cultural celebration, and rededication. Read newsletters and find answers to frequently asked questions.
Laie Hawaii Temple To Be Rededicated in November
The First Presidency has announced the open house and rededication dates for the Laie Hawaii Temple. The public will be invited to tour the temple Friday, October 22, through Saturday, November 13, excluding Sundays. The temple will be rededicated on Sunday, November 21, in three sessions.
Laie Hawaii Temple on Track For Summer Completion
The Laie Hawaii Temple, which has been undergoing renovation for over a year, is on schedule to be completed this summer. Details of the renovation including an anticipated open house and rededication are being kept under wraps.
Laie Hawaii Temple Renovation Proceeds on Oahu's North Shore
The Laie Hawaii Temple has been closed for 11 months during an extensive renovation project. Recently submitted photographs show progress on the sacred structure. The temple is anticipated to reopen next year.