Helena Montana Temple
Latest News
News Stories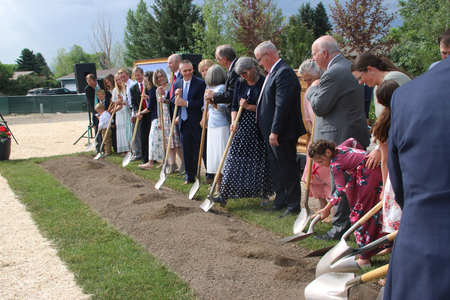 Photo: Intellectual Reserve, Inc.
Groundbreaking Event Held for the Helena Montana Temple
Elder Vern P. Stanfill of the Seventy presided at the groundbreaking ceremony for the Helena Montana Temple held on Saturday, June 26, 2021. As the groundbreaking approached, he "pondered on the many who have lived in the shadow of these mountains who…sacrificed, served, and hoped for this day." He concluded, "Theirs is a legacy of faith and discipleship of the Savior." Elder Stanfill was accompanied by Helena Montana Stake president Bret Romney and invited guests. The 10,000-square-foot temple was announced 12 weeks ago in General Conference and is expected to be erected at an accelerated pace. It will stand next to a new stake center on a 4.8-acre site at 1260 Otter Road. Elder Stanfill declared, "As a house of the Lord, a holy temple, rises out of the ground in this place, we pray that all who look upon it will see it as a great blessing and come to learn of its significance."