Frankfurt Germany Temple
41st operating temple; closed for renovation; trees and shrubs being planted; lamp posts being installed; new staircase being cured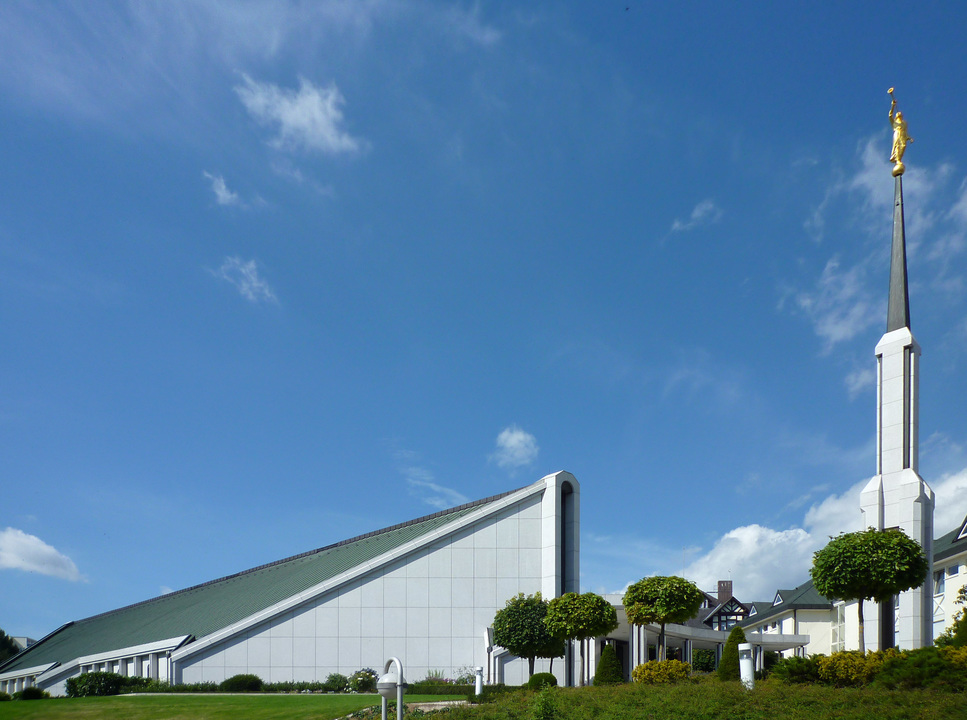 © Aaron Nuffer. All rights reserved.
Address
Talstrasse 10
DE-61381 Friedrichsdorf, Hessen
Germany
Services
NO clothing rental available
NO cafeteria available
NO patron housing available
NO distribution center nearby
(Store Locator)
Announcement:
1 April 1981
Groundbreaking and Site Dedication:
1 July 1985 by Gordon B. Hinckley
Public Open House:
29 July–8 August 1987
Dedication:
28–30 August 1987 by Ezra Taft Benson
Public Open House:
13–28 September 2019
Rededication:
20 October 2019
Site:
5.2 acres
Exterior Finish:
Bethel white granite from northern Vermont; copper roof
Ordinance Rooms:
Four ordinance rooms (stationary) and five sealing
Total Floor Area:
24,170 square feet
Temple Locale
Situated several miles north of Frankfurt in the historic city of Friedrichsdorf, the Frankfurt Germany Temple stands on elevated land near a major highway where drivers can glimpse its graceful detached spire. Ancillary buildings are on site including a residence for the temple president, a temple missionary housing facility, a patron housing facility, and a stake center. The immaculate park-like grounds—open to the public—are beautified with colorful shrubs and flowers.
Temple Facts
The Frankfurt Germany Temple was the fifth temple built in Europe and the second built in the current boundaries of Germany, following the Freiberg Germany Temple (1985).
Construction of the Frankfurt Germany Temple met opposition during its early planning phases, but President Gordon B. Hinckley told local officials that they would not regret their decision to permit construction of the temple. It "will be a thing of beauty in this lovely area," he said. "It will be a source of pride to local residents, who will come to speak of it as 'our temple.'"
President Gordon B. Hinckley broke ground for the Frankfurt Germany Temple the day after he concluded the dedicatory services for the Freiberg Germany Temple. The next day, he dedicated the Stockholm Sweden Temple.
The Frankfurt Germany Temple and Freiberg Germany Temple originally belonged to separate nations: Frankfurt to the Federal Republic of Germany (West Germany) and Freiberg to the German Democratic Republic (East Germany), a socialist state created by the Soviet Union. The two nations reunited in 1990, three years after the dedication of the Frankfurt Germany Temple.
During its week-and-a-half open house period, the Frankfurt Germany Temple was toured by some 70,000 visitors.
As an apostle, Elder Ezra Taft Benson was called to minister in Europe in 1945, following the devastation of World War II, and again in 1963 to serve as president of the European Mission, headquartered in Frankfurt. In August 1987, it was his special treat to return to Frankfurt—now as president of the Church—to dedicate the Frankfurt Germany Temple.
The Frankfurt Germany Temple was dedicated in eleven sessions over three days with approximately 12,570 members attending, largely coming from the nations of Germany, Belgium, the Netherlands, and France.
On September 7, 2015, the Frankfurt Germany Temple closed for renovation and enlargement. A few months later, a new stake center was dedicated that had been under construction next to the temple, and the former meetinghouse was demolished to make room for a missionary housing facility. The discovery of foundation issues during the renovation doubled the anticipated construction time two years to four years. An underground baptistry was added as part of the remodel.