St. George Utah Temple
Latest News
News Stories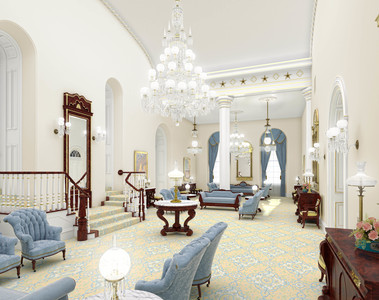 Renovation Plans Shared for the St. George Utah Temple
At a news conference held in the St. George Temple Visitors' Center today, plans were released for the upcoming renovation of the
St. George Utah Temple
, which closes on November 4, 2019. Brent Roberts, managing director of the Special Projects Department said, "Latter-day Saints have worshipped here for almost 150 years. However, the building has worn out over time, and it is once again time for us to refresh and strengthen this historic structure for future generations to enjoy." Improvements are planned for the entire block including new walkways, landscaping, water features, and shade trees. The existing annex will be replaced with a larger structure that complements the temple's exterior and incorporates a new exit for brides. Major structural and mechanical upgrades will require some excavation around the foundation. A new baptistry entrance will be added on the south side of the temple. The renovation is expected to be completed in 2022, which will be followed by an open house and rededication.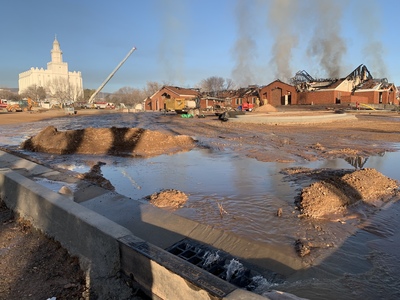 New Stake Center Lost to Fire in St. George, Utah
A nearly completed stake center for the St. George Utah East Stake that had been under construction across the street from the
St. George Utah Temple
was
lost to fire
in the early hours of Saturday morning, just one day after an announcement that the temple would be closed for renovation late this year. The cause of the fire has yet to be determined, but it is being treated as a criminal investigation.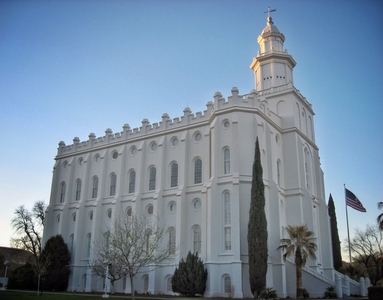 Renovation Announced for the St. George Utah Temple
On November 4, 2019, the
St. George Utah Temple
will close for a major renovation to extensively reinforce the structural integrity of the building and to upgrade all of the mechanical, electrical, and plumbing systems. The interior will be cosmetically refreshed throughout. Construction is expected to be completed in 2022.