McAllen Texas Temple
Latest News
News Stories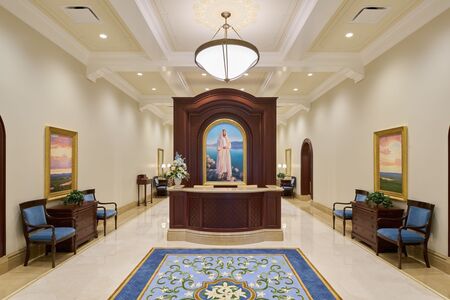 Photo: Intellectual Reserve, Inc.
Interior Photographs of the McAllen Texas Temple Released
The McAllen Texas Temple has opened for guest tours. Journalists and other invited guests will be hosted by members of the North America Southwest Area presidency and a member of the Temple Department Executive Committee over the next few days. Public tours begin Friday, August 25, and continue through Saturday, September 9, 2023, with no tours held on Sundays. All are invited to attend. The 27,897-square-foot temple sits on a 10.61-acre site and measures 108 feet to the top of the tower finial. The design is inspired by citrus crops grown in and around McAllen, as well as Spanish colonial architecture found in the area. Among the patterns featured are citrus blossoms, barbed quatrefoils, scrolls and ribbons. "Tears fell from my eyes as I realized our Heavenly Father has been listening to the fervent prayers of countless [Church] members for many years," said local Church member, Elizabeth Rodriguez de Anda, of the temple. "I am grateful to our Heavenly Father for this modern-day miracle."