News Stories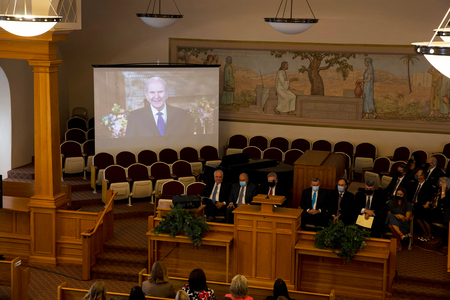 Photo: Intellectual Reserve, Inc.
President Nelson Announces Plans for the Ephraim Utah Temple
President Russell M. Nelson announced the construction of the Ephraim Utah Temple in a
prerecorded message
played at a press conference held inside the Manti Tabernacle on Saturday, May 1. Elder Kevin R. Duncan, Executive Director of the Temple Department, provided additional details. He said the temple will be similar in size to the Brigham City Utah Temple, which is approximately 36,000 square feet. The temple in Ephraim will serve some 30,000 Latter-day Saints and have four 30-seat endowment rooms, three sealing rooms, and one baptismal font. Endowment sessions will be offered every half hour. Bishop W. Christopher Waddell of the Presiding Bishopric said the site and design of the temple will be released later and that construction will take two years once the design and permitting process has concluded. "Every new temple built upon the earth brings with it an increase of Christlike service, goodness and love of God and of neighbor," said Elder Duncan. "We are especially thrilled that, similar to students who attend other colleges and universities, students who attend Snow College will now have an easily accessible temple in which to serve and worship."