News Stories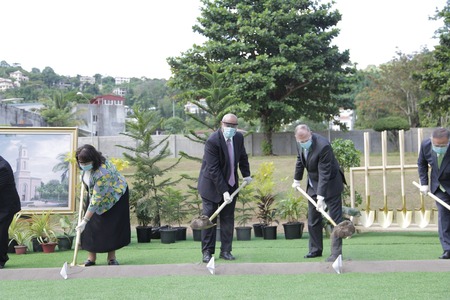 Photo: Intellectual Reserve, Inc.
Groundbreaking Held for the Davao Philippines Temple
"It never ceases to amaze me how the hand of the Lord has been over this nation. How He has prepared its people and its land to receive the gospel and the blessings of the temples of the Lord," said Elder Taniela B. Wakolo, president of the Philippines Area, at the groundbreaking ceremony for the Davao Philippines Temple on November 14, 2020. He was joined by his wife, Anita, Elder Yoon Hwan Choi and Elder Steven R. Bangerter of the area presidency, and invited local interfaith leaders. The two-story, 18,450-square-foot temple will be constructed on a 2.7-acre site at Ma-a Road and Anahaw Road along with a meetinghouse and housing for patrons and the temple presidency. "My prayer is that we visit the temple as often as we can. Let us experience heaven here on earth through the temple. Heaven becomes closer when we go to the temple," said Elder Wakolo.