Auckland New Zealand Temple
Latest News
News Stories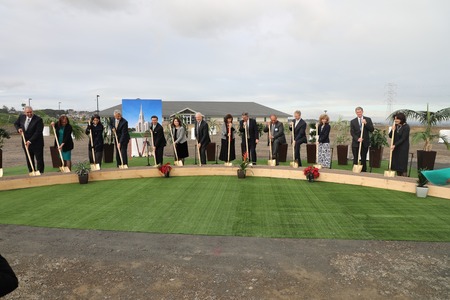 Photo: Intellectual Reserve, Inc.
Groundbreaking Held for the Auckland New Zealand Temple
"This is an historic day as we dedicate the ground for the Auckland New Zealand Temple," said Elder Ian S. Arden, president of the Pacific Area, at this morning's groundbreaking ceremony. He added, "The temple will be a beautiful, bright light in the city of Auckland, inviting all to come unto Christ." All three members of the Area Presidency and their wives were in attendance along with leaders from civic, religious, and community organizations including Mayor Phil Goff. In his remarks, Mayor Goff celebrated the diversity of faiths and cultures in New Zealand stating, "[W]e are free to worship as we choose. Together, we must defeat prejudice, intolerance, and bigotry. We stand together against these things." Groundbreaking Co-Chair, Ngatai Smith, emphasized that the temple will be "a place of beauty, holiness, peace, and tranquility. Most importantly, it will be a place where people will come to hear God speaking to them, words of comfort and gentle guidance."