Port Moresby Papua New Guinea Temple
Latest News
News Stories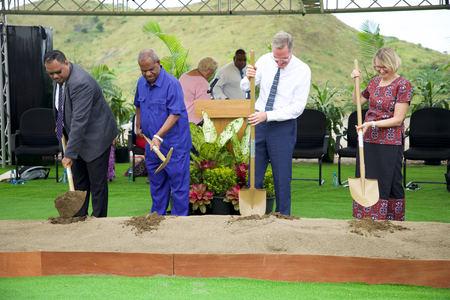 Photo: Intellectual Reserve, Inc.
Port Moresby Papua New Guinea Temple Groundbreaking Event
"May the emerging temple become a symbol of peace and blessings for them," prayed Elder Peter F. Meurs, General Authority Seventy, in his site dedicatory prayer at the groundbreaking ceremony for the Port Moresby Papua New Guinea Temple. Many honored guests attended the event held on Saturday, April 22, including His Excellency, Sir Bob Dadae, Governor General of Papua New Guinea; Tauvasa Tanuvasa Chou-Lee, Solicitor General; and Joe Zadrozny, Chargé d'Affaires, U.S. Embassy to Papua New Guinea, Solomon Islands and Vanuatu. Current and former Church leaders from across the country were present, and a group of 18 men walked the famous Kokoda Trail, a 100km mountainous hike, for four days to be in attendance. Church members have traveled overseas for many years to participate in temple worship. Soon they will have a temple of their own on a beautiful site overlooking the ocean.