Dubai United Arab Emirates Temple
Latest News
News Stories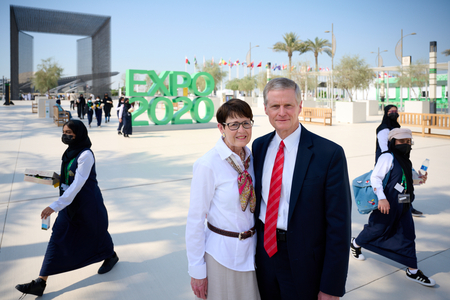 Photo: Intellectual Reserve, Inc.
Bednars Visit the General Location of the Dubai United Arab Emirates Temple
On Wednesday, October 27, Elder David A. Bednar and his wife Susan visited the Expo 2020 development, where the Dubai United Arab Emirates Temple will be constructed, as part of a week-long ministry to the Middle East. The first temple to be constructed in the Middle East was announced at the April 2020 general conference. "It makes great sense that the temple would be located here," said Elder Bednar. "Transportation systems have been oriented to bring people here. It will provide ease of access, and it is in a very dynamic area. It seems to me the Lord has picked a perfect location for His temple."